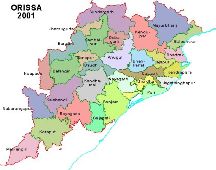 After the Centre's refusal of permission for Vedanta's mining project, Orissa government on Wednesday asked the UK-based group to have patience in order to get alternative sources of bauxite for its refinery at Lanjigarh in Kalahandi district.
"Allocating mines to any company requires a lot of time as the state government has to go through different phases.
"Therefore, Vedanta has to wait to get alternative reserve of bauxite," Steel and Mines minister Raghunath Mohanty told reporters after a meeting with Vedanta's chief operating officer Mukesh Kumar.
A delegation of Vedanta Group led by Kumar met Mohanty and urged him to accelerate process of providing alternative source of bauxite after the company was refused permission to start mining atop Niyamgiri hills in Kalahandi district.
Though Vedanta had earlier submitted applications for at least seven bauxite reserves located in Kalahandi and Rayagada districts, the company did not press for them until its mining project at Niyamgiri hills was rejected by the Union Ministry of Environment and Forest last month.
Stating that Vedanta's application would be processed according to the Mines and Mineral (development and regulation) Act, Mohanty said the state government had not given any specific assurance to the company for allocation of any specific bauxite reserve.
"However, we have told them (Vedanta) to have patience as the process associated with mining projects require a lot of time," Mohanty said.
The company, which had started operation from its refinery project at Lanjigarh and smelter unit at Jharsuguda, had been running plants by importing bauxite from other states like Chhattisgarh, Maharashtra, Jharkhand and now planned to lift some raw material from Gujarat to meet its requirement.
Vedanta required about three million tons of bauxite to run its 1 mtpa refinery at Lanjigarh.
"Though, we have not been given any mine within the state, the plants are in operation. We will continue running the plants hoping to get raw material from here," Mukesh Kumar said.
Besides Niyamgiri, Vedanta had already expressed its interest to mine bauxite from seven small reserves in Kalahandi and Rayagada districts, close to its refinery.
Though the state government in its memorandum of understanding in 2004 with Vedanta had committed to providing 150 million tons of raw material to the company, it was unable to give any mine despite Orissa having more than 1800 million tons of bauxite deposits, which was 54.89 per cent of country's total bauxite reserve.