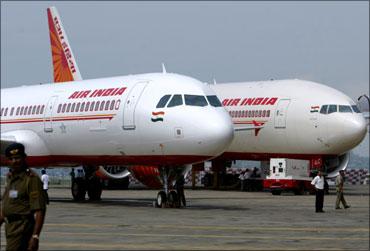 Air India's five-year turnaround plan for financial revival of the ailing national carrier was on Monday reviewed at its board meeting in the presence of Civil Aviation Minister Praful Patel.
The plan for 2010-14 envisages revenue enhancement and expenditure reduction over different phases, airline sources said.
Chairman-cum-managing editor Arvind Jadhav and newly-appointed chief operating officer Gustav Baldauf gave a presentation on the plan at the three-hour long meeting, which was also attended by civil aviation secretary Madhavan Nambiar, they said.
The meeting came three months after the government appointed four independent directors on Air India Board to utilise their expertise in turning around the national carrier, which suffered an estimated loss of Rs 5,400 crore (Rs 54 billion) in 2009-10.
The independent directors are Mahindra Group vice chairman and MD Anand Mahindra, Ambuja Reality Group chairman Harshvardhan Neotia, Federation of Indian Chambers of Commerce and Industries secretary general Amit Mitra and former Air Force chief Fali Homi Major.
According to the sources, Monday's exercise is likely to be followed by a meeting with union representatives, who are being taken into the fold so that they can have a proper say in the company's turnaround plan.
"The CMD has informed us that the independent directors are playing an important role in formalising the turnaround strategy. He has assured the unions that there will be a meeting between the Board and unions to consider our inputs on the turnaround strategy," said George Abraham, a senior leader of the Aviation Industry Employees Guild.