While Coca-Cola India improved its profit margin during the year, arch rival PepsiCo's margin was far lower.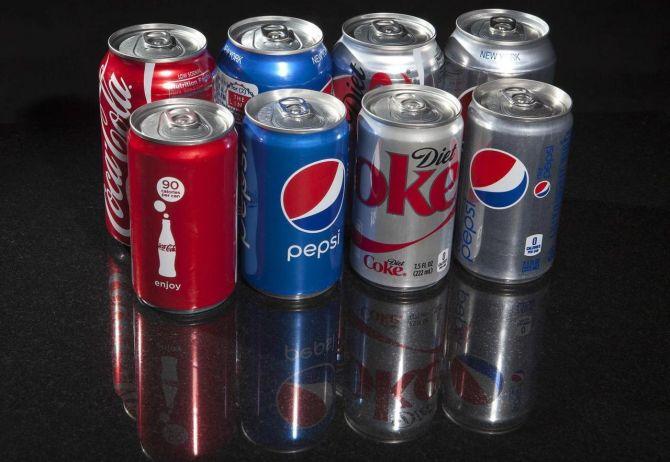 The two cola giants - Coca-Cola and PepsiCo - managed to extend their top line in 2018-19 but their profitability continues to remain on divergent paths.
While Coca-Cola India improved its profit margin during the year, arch rival PepsiCo's margin was far lower.
Data from the Registrar of Companies (RoC) shows that Coca-Cola India, which owns the formulations for Thums Up, Sprite and Coke, managed to grow its net profit margin to 27.4 per cent from 26.3 per cent in 2017-18.
The firm reported a net profit of Rs 632 crore, with an operating profit of Rs 2,311 crore at the consolidated level.
PepsiCo, which was in the red for years, only to turn profitable in 2017-18, managed to stay in the green in 2018-19.
But its net profit margin stood at only 0.2 per cent.
The company posted Rs 12.64 crore net profit out of an operating revenue of Rs 6,253 crore.
Net profit margin is the ratio of a firm's net profit and revenue.
PepsiCo, the marketer of popular beverages like Mountain Dew, Mirinda and Tropicana Slice, in fact, saw a spike in its margin in 2017-18, after years of losses since 2011-12.
The firm's net profit jumped to Rs 203 crore from a net loss of Rs 148 crore in 2016-17.
According to the company, in 2017-18, PepsiCo's bottom line reflected gain due to "a one-off land sale" at one of its old plants for producing Duke brand of beverages.
Citing its standalone financial performance, a PepsiCo India spokesperson said, in 2018-19, its "normalised profit after tax actually grew 67 per cent over the previous year."
On a standalone basis, PepsiCo posted Rs 36 crore net profit in 2018-19, he said.
Over the years, PepsiCo's operating revenue has come down significantly, as it kept divesting bottling plants to its franchise partners.
While its operating revenue grew 2.4 per cent year-on-year, it remained significantly lower than the Rs 8,130 crore it had posted five years ago.
Its top line numbers now show that majority of sales is coming from the snacking and nutrition business, represented by brands like Lay's, Kurkure, Doritos and Quaker.
According to a PepsiCo spokesperson, strong performance on core offerings led by Lay's, Kurkure and Quaker resulted in the top line growth last year.
"Focus on distribution, expansion and gains via e-commerce and high capacity utilisation, mainly in the foods business, helped leverage cost lines.
"Strong productivity delivery is offsetting headwinds like inflation", he said.
Coca-Cola India, which does not manufacture or market any products, gets majority of its revenue from royalty incomes against ownership of formulations for key products.
After a dip in 2017-18, the firm's operating revenue grew by 9.7 per cent.
"Our performance in the year 2018-19 was driven by a broader portfolio of beverage offerings, better product mix and packs, especially in the juice segment together with better execution in the market", said a Coca-Cola India spokesperson.
Coca-Cola's in-house bottling entity - Hindustan Coca-Cola Beverages - that manufactures and markets nearly two-thirds of its beverages - managed to improve net profit margin in 2018-19 to 3.4 per cent.
It reported a net profit of Rs 321 crore from Rs 9,427 crore net sales. In 2017-18, the firm had posted Rs 118 crore net loss and Rs 8,564 crore net sales.
Photograph: Carlo Allegri/Reuters