The settlement with Sebi was seen as Infosys admitting guilt of the lapse, clearing out any legal or regulatory challenges and preparing ground for new chief executive officer Salil Parekh.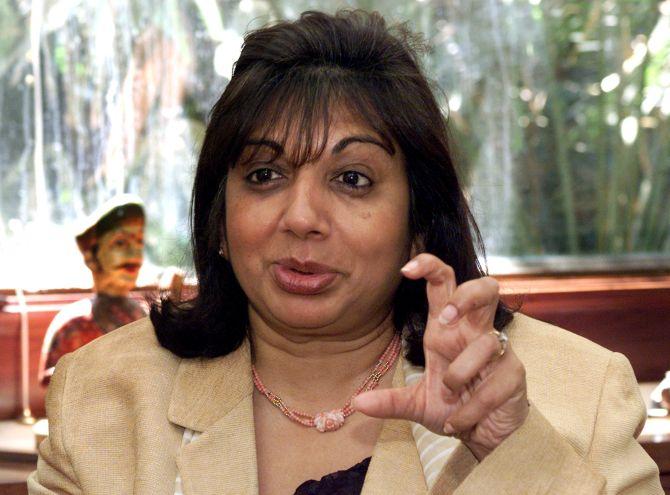 Kiran Mazumdar-Shaw, a board member at Infosys, has sought an end to fresh concerns raised over alleged irregularities in the severance pay offered to former chief financial officer (CFO) Rajiv Bansal, saying that the company's co-founder and hhairman Nandan Nilekani had reinvestigated the issue and found no wrongdoing.
Mazumdar-Shaw's appeal for a closure comes after an internal whistle-blower recently asked market regulator Securities and Exchanges Board of India (Sebi) to order an independent forensic probe on the $200-million acquisition of Israeli tech firm Panaya and the subsequent deal of Rs 17.38 crore severance pay to Bansal.
Last week, Infosys had reached out to Sebi with a consent plea to allegations of disclosure lapses by its former management led by Vishal Sikka to its board on the severance pay pact with Bansal.
The settlement was seen as Infosys admitting guilt of the lapse, clearing out any legal or regulatory challenges and preparing ground for new chief executive officer Salil Parekh, who takes charge in January.
Infosys appeal to Sebi prompted two former Infosys board members, T V Mohandas Pai and V Balakrishnan, to ask the company to apologise to founder N R Narayana Murthy, who had flagged the failure to disclose the pact to the board and shareholders.
They also sought resignation of two Infosys board members - Ravi Venkatesan and Roopa Kudva - for the lapse.
Subsequently, the whistle-blower wrote a letter to Sebi on Saturday, seeking fresh probe and asking the regulator to prosecute Infosys by rejecting its appeal.
"The matters were reinvestigated (a)n(d) no wrongdoings were found by new chairman. Let's bring this to a closure (a)n(d) move on. It helps no one," Mazumdar-Shaw wrote on the microblogging platform, Twitter, responding to Pai who called the lapse a "substantial matter".
A February letter to the regulator by the anonymous whistle-blower led Infosys to do independent forensic probes that gave clean chit to both Sikka and the board.
However, Murthy was not satisfied and asked Infosys to reveal the full contents of the probe report.
This was rejected by the then chairman and director of Infosys Board R Seshasayee, citing confidential details could be revealed if made public.
In August, Sikka quit and investors started to flee the stock.
It forced the board, former employees and other founders of Infosys to bring back a reluctant Nilekani as the chairman.
Among the promises made by Nilekani on his return was to look at the probe report dispassionately and give his verdict.
In October, he gave a clean chit to Sikka of any "wrongdoing". This was met with a curt response from Murthy, who criticised the company, but also admitted that "Sadly, it appears we will no longer know the truth".
Mazumdar-Shaw on Saturday said Infosys had admitted to procedural lapses and the move to file a settlement plea with Sebi was to pay a fine for that.
"I hope (yo)u recall that procedural lapses were admitted (a)n(d) (former Infosys chairman R) Seshasayee apologised at AGM (annual general meeting). Settlement is to pay fine for unintended procedural lapse," Mazumdar-Shaw tweeted on Saturday.
Bansal and Infosys are fighting a separate arbitration after the former CFO filed a case in April against the company for violating the terms of the settlement.
In September 2016, Infosys had suspended payment to Bansal after the controversy erupted into public space.
Photograph: Jagadeesh NV/Reuters