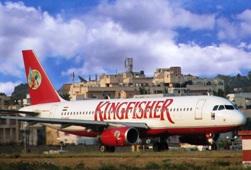 Banks on Saturday stepped up pressure on beleaguered Kingfisher Airlines, stating it needed to have a capital of at least Rs 2,000 crore (Rs 20 billion) if it wanted to revive itself.

"The company has to bring in a minimum capital of Rs 2,000 crore.

Only then can there be some possibility. . . (of revival)," said Pratip Chaudhuri, chairman, State Bank of India.

"Talks are on, but there has been no progress yet."

On Saturday, bankers met the KFA management in yet another inconclusive meeting.

"If the company doesn't wish to fly, what can banks do about it?" said Chaudhuri.

"Till the company brings money from its own capital, I don't think anything can happen.

The solution has to come from the company," he said, indicating banks won't fund KFA till the company brings in some amount from its own funds.

On taking legal recourse and realisation of assets, Chaudhuri said, "If you enforce the assets, whatever  remaining hopes are there will also disappear,"

Earlier, Kingfisher had given a revival plan to the the Directorate General of Civil Aviation, which included a limited restart of operations with Rs 650 crore (Rs 6.5 billion)
of capital which promoter Vijay Mallya had promised to bring from his own sources.
However, DGCA wasn't impressed and had asked KFA to bring 'No Objection Certificates' from various agencies including the lenders.
While KFA has reportedly got NOCs from oil companies and lessors, lenders haven't issued one.
Last year in November, Pratip Chaudhuri had asked the management to put $1 billion as capital.
KFA has been grounded since October, following a strike by its engineers over delayed payment of salaries.
DGCA suspended its operating permit in the same month. Banks have an exposure of about Rs 7,500 crore (Rs 75 billion) to the airline which has been a non-performing asset for the last one year.
SBI has the highest exposure of about Rs 1,200 crore (Rs 12 billion) to the airline.