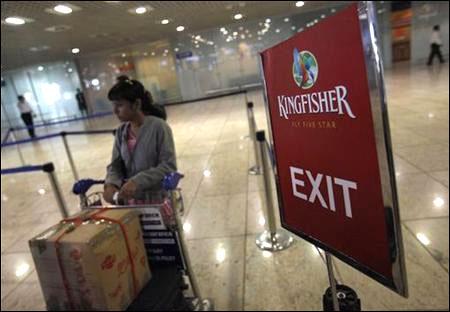 Lenders to Kingfisher Airlines said they are yet to hear from the grounded airline even as the deadline set by the bankers to bring in fresh equity of $1 billion ended.
However, a banker sounded optimistic about a meeting between the lenders' consortium and the airline "in the next fortnight".
"We have not heard from the airline yet and I expect some meeting between the consortium and the airline to happen in the next fortnight," Shyamal Acharya, deputy managing director in charge of mid corporate group at State Bank of India, the lead banker, told PTI.
He said no fresh date has been decided for the meeting with the Vijay Mallya-led airline, which owes Rs 7,000 crore to the consortium of 17 banks, with SBI alone accounting for Rs 1,200 crore.

SBI chairman Pratip Chaudhuri had earlier this month asked the airline, a part of the UB Group, to bring in at least $1 billion (over Rs 5,400 crore) by November-end.
Expectations had gone up following the announcement of the Rs 11,100 crore United Spirits-Diageo deal, wherein UB group is expected to receive a large sum. However, Vijay Mallya later made it clear that the proceeds would not be diverted to the troubled airline, saying "both businesses will be dealt with separately".
A senior banker said there are complicated issues, especially regarding how the money from the deal will find its way to Kingfisher's lenders.
Such issues will have to be sorted out across the table between the top management of the airline and the bankers, the banker added.