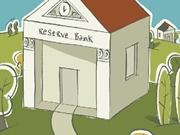 Saraswati Das, 32, walks 20 km whenever she has to carry out a banking transaction. The walks have become more frequent of late because membership of the self-help group (SHG) she heads has been growing.
Das lives in Jalanga, a small village in Orissa's Bhadrak district. Government records show Jalanga in the list of areas with 100 per cent financial inclusion.
She leads Sri Gobind Anchalika Sangha, a conglomerate of 32 SHGs based at Jalanga, which has a population of 3,360 and a total land holding of 486 hectares. The village has over 400 no-frills accounts and 175 people who have taken bank loans.
Das, however, now hopes for better days as Jalanga had an unusual visitor on Thursday -- Reserve Bank of India Governor D Subbarao. The visit was a part of the central bank's decision to reach out to villages in remote areas to spread the message of financial inclusion. Kolkata-based UCO Bank adopted the village on the same day.
RBI calls it a 'financial outreach' programme, under which it will take stock of the financial condition of 200-odd villages in about eight months -- a first-of-its-kind initiative from the central bank.
So far, the governor and his four deputies have visited eight villages (from Minicoy -- the outermost island of Lakshadweep -- to Khonoma, a picturesque village 20 km west of Kohima in Nagaland) and will visit 12 more.
The regional directors of RBI, however, will visit all the 200.
"Its also a reality check on financial inclusion and spread the message that RBI is much more than a policy-making body; it also cares for the bottom of the pyramid segment," says an RBI official.
The reality check at Bhadrak may not have been too pleasant for Subbarao. Jalanga or its neighbouring villages do not have a single bank branch. The nearest bank branch, that of UCO Bank, where Das has an account, is located at Bhadrak, around 20 km from the village.
Even State Bank of India, the country's largest networked bank and Kalinga Gramya Bank, which has 50 no-frills accounts at Jalanga, have their branches only at Bhadrak. "The villagers cannot afford to hire auto rickshaw to travel so far. So we have to depend on our legs," Das says.
UCO's Bhadrak branch is yet to provide ATM cards to the account holders of the village even though the bank claims to have opened over 400 no-frills accounts at Jalanga. "The branch has only two people dealing with loans, which means we have to wait for months together to get our loans sanctioned, says Pratibha Jena, a member of the self-help group.
 
Besides, for the residents of Jalanga, banking services are only restricted to maintaining accounts or, at best, getting loans for agriculture or the SHGs.
Other financial services like remittances or overdrafts are unheard of. The absence of the remittance facility at the nearest bank branch has been a handicap for migrants from Jalanga who are now engaged in the textile mills in Surat.  These migrants send money to their kin either through money order or courier.
The RBI governor heard out the villagers patiently and called for stepping up awareness on the whole gamut of financial services which banks offer. People need to be educated on the various financial services and they should start demanding these services from banks, he asserted.
The message worked as UCO bank was quick enough to take the cue and announce that it would indeed set up a branch in Jalanga before January 6 next year -- something that farmers like Harendra Kumar Panda thinks would do wonders for the village.
His hopes may not be misplaced. UCO Bank has already chalked out a three-year Village Development Plan for its adopted village. The bank has set its loan disbursal target for Jalanga village at Rs 91.75 lakh for 2009-10, Rs 99 lakh for 2010-11 and Rs 1.3 crore for  2011-12.
"We have already disbursed loans worth Rs 24 lakh in the current fiscal and hope to meet our target. UCO Bank, which has more than 400 no-frills accounts at Jalanga, would add another 150 such accounts before the end of this fiscal", Damodar Panda, senior manager of UCO Bank's Bhadrak branch, said.
Loan disbursals apart, UCO Bank's Village Development Plan also includes providing solar powered street lights, formation of SHGs, insurance coverage for students and villagers, farm mechanisation, development of agriclinics and agribusiness centres and development of handicrafts.
Though Jalanga may see better days, there are many who feel RBI's financial outreach programme is just a gimmick. RBI insiders say doing a reality check in just 200 out of 600,000 villages in the country will serve no purpose. "Of the 36,000 automated teller machines in the country, just about 2,000 are in the villages. A district may claim 80 per cent financial inclusion, but if we ask 25 families it is more likely that less than 24 families will have a bank account," an RBI official said.
Others say its impractical to expect the RBI top brass to visit all villages. At least the experience in these 200 villages may reflect in the central bank's policy-making, they say.
The idea is to make 200 model villages and then ask the banks to develop such models around the model village. "In this process, if at least 100 villages can be developed around the model villages, we will have 20,000 model villages," another RBI official who is involved with the outreach programme said.
The RBI regional offices have been asked to monitor the progress of the village on a regular basis and report the progress on a monthly basis. The central bank plans to cover all the 200 villages by March 2010.