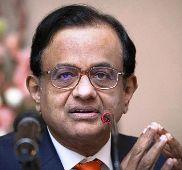 Finance Minister Palaniappan Chidambaram has had pre-budget consultations with bankers and heads of financial institutions here.

Officials from 22 banks made representations before the minister and his panel about the industry expectations from the next financial budget.

Faced with the prospect of fighting elections in 2014 on the back of the weakest economic growth in a decade, high inflation and a possible sovereign downgrade, in September, Prime Minister Manmohan Singh -- a veteran economist who oversaw the 1991 reforms - launched controversial new measures to free up the economy, including inviting investment from foreign supermarkets.

Since September, the government has raised limits on how much corporate and government debt foreign investors buy, but the widening deficit has faced headwinds from expensive oil, high gold imports and a sharp drop in exports.

Chidambaram had said gold imports at $20.25 billion substantially contributed to the widening of the current account deficit -- $38.7 billion or 4.6 per cent of GDP in the first six months of the current fiscal year ending in March.

In the April-November period, India''s total exports contracted by nearly 6 per cent from a year earlier, leaving a trade deficit of nearly USD 130 billion.

Worried by the ballooning deficit, the government in March doubled the import duty on gold to four per cent.

Gold is the biggest contributor to the import bill after crude oil and is easier to tame than energy supplies.

Recently, the executive director of India's central bank Deepak Mohanty urged investors to shift from physical gold as a hedge against rising prices to financial products like inflation-linked bonds.

India''s gold imports rose 9 per cent to 223.1 tonnes in the September quarter, after a 56 per cent fall in the June quarter to 131 tonnes.

Analysts predict a recovery in the December quarter due to peak festival- and wedding-season buying.
Image: P Chidambaram