However, his backing as an investor is no guarantee of success for Twitter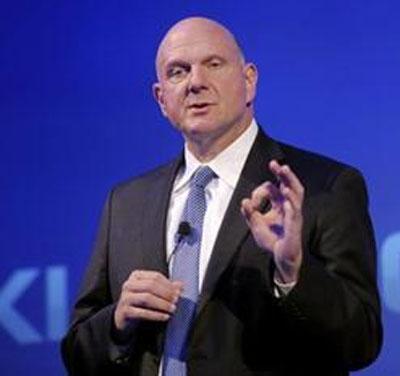 Former Microsoft chief executive Steve Ballmer has acquired four per cent stake in Twitter, according to his spokesman, making him the third-largest individual shareholder in the social media company.

Ballmer's stake is worth about $800 million, based on Twitter's market value of $21 billion. Among individual investors, only co-founder Evan Williams and Saudi billionaire Prince Alwaleed bin Talal hold higher greater stakes.

Now, Ballmer owns more of Twitter than co-founder and CEO Jack Dorsey, who holds 3.2 per cent stake, according to Thomson Reuters data. Williams is the largest individual shareholder with 7.5 per cent, followed by Alwaleed (5.2 per cent).

Shares of Twitter rose 5.6 per cent to $31.34 on Friday, hours after Ballmer tweeted from a non-verified account that he had raised his stake through the past several months. He lauded Twitter's new 'Moments' feature, which curates the best tweets of the day, as well as Dorsey's appointment as permanent chief executive last week.

"Good job @twitter, @twittermoments innovation, @jack Ceo, leaner, more focused," the tweet read. "Glad I bought four per cent in the past few months….Like @alwaleedbinT move too," Ballmer tweeted.

Alwaleed and his investment firm, Kingdom Holding, said earlier this month, they had raised their stake in Twitter to more than five per cent.

Twitter declined to comment. Ballmer did not return requests for comment.

Ballmer, who bought the Los Angeles Clippers basketball team after retiring as Microsoft chief executive in February 2014, has a personal fortune of about $21.5 billion, making him the 35th richest person in the world, according to Forbes magazine.

However, his backing as an investor is no guarantee of success for Twitter. Ballmer famously laughed at Apple's first iPhone, and shares of Microsoft declined through the 14 years of his leadership.

Ballmer's investment in Twitter was a sign that the company's efforts to revive growth under Dorsey were being appreciated, said Monness, Crespi, Hardt, & Co Inc analyst James Cakmak. "I think it's just another point of evidence that the step they are taking to redirect the business towards growth is resonating," he added.

Twitter has made several new announcements since Dorsey, who also served as chief executive in 2008, returned on a permanent basis last week. On Tuesday, the company said it would lay off about eight per cent of its workforce and on Wednesday, it hired Google executive Omid Kordestani as executive chairman.

FBN Securities analyst Shebly Seyrafi said Ballmer's stake could be indicative of widespread confidence in Dorsey and his strategy. "It depends on the timing of his investment. I'm not sure how much of his four per cent was acquired before Dorsey was appointed interim or permanent CEO."
Annual base salary of $50k for Kordestani
Twitter said it would pay new Executive Chairman Omid Kordestani (pictured) an annual base salary of $50,000 and a one-time grant of options to buy 800,000 shares of the microblogging website operator. The company said it didn't expect Kordestani to be appointed to any committee of the board.

Twitter poached Kordestani from Google on Wednesday.

Kordestani, 51, joined Google as its 11th employee in 1999 and stayed for 10 years. Following a few years away, he returned full-time in October 2014 as chief business officer. At Google, he had an annual base salary of $237,500 and stock awards of about $123 million, according to the latest Google proxy filing.