Prime Minister Narendra Modi on Thursday said a balanced development of all states was required to take India to the "pinnacle of development" and emphasised on stable governments to reach the goal.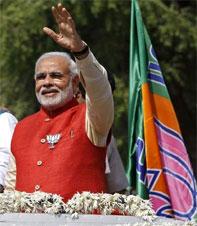 "If we want to take India to the pinnacle of development, then no part of the country should remain weak," Modi said, after laying the foundation stone for a slew of developmental projects and inauguration of some others.
He also stressed on the need to have a stable government to take significant decisions.
"How is this government (Centre) taking important decisions? Because the people voted a majority government. Had it been unstable or coalition government, then I could not have taken so many steps," Modi said.
"I see some economic activities in western India, but not in the eastern part or east-central region where people are waiting for development...poverty has shattered the lives of the poor," he observed.
The 765 kV Ranchi-Dharmjaygarh-Sipat Transmission Line would play a significant role in the development of economic activity in the eastern and western parts of the country with Jharkhand having a key role to play, he pointed out.
Recalling his visits to Jharkhand during election campaigns, Modi said that he had spoken about development and the people deserved kudos for choosing the developmental path by supporting it overwhelmingly in the Lok Sabha elections.
He said that Jharkhand has the potential to become the best, even many times more than Gujarat.
He referred to how former Prime Minister Atal Bihari Vajpayee had a dream to see a developed Jharkhand that would shape the fortune of the country as well.
"But the state of things in Jharkhand is not acceptable," he said, adding "a state, having natural resources and hardworking people, was not born to remain backward." "Together we should work and make the state developed with projects like that done today," Modi stressed.
He also expressed regret as to how Vajpayee had laid the foundation stone for the North Karanpura Super Thermal Power Project in Jharkhand 10 years ago, but work did not progress.
"Isn't it injustice to the people of Jharkhand?" Modi asked, saying "I think it has been written in my fate to complete the unfinished work for which Vajpayee laid the foundation. This project will not only give electricity to Jharkhand but also to the other parts of the country."