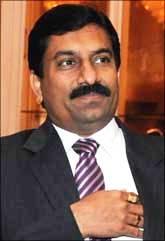 The Gujarat high court on Friday relaxed the bail conditions of Adani Enterprise Ltd managing director Rajesh Adani, allowing him to go out of the country provided he abides by certain conditions.
Justice H B Antani, while relaxing the bail conditions, allowed Adani to go out of Ahmedabad and said AEL managing director can also go abroad provided he submit a detailed itinerary of his visit to the CBI.
The court also asked Adani to report in the CBI office in Gandhinagar in the first week of every month.
CBI lawyer Y R Ravani said the relaxation will be in place till the next hearing on May 3.
Adani's lawyer had on Thursday requested the court to relax the bail conditions of his client and allow him to go out of Ahmedabad.
The court had last month granted him the permission to go out of the city from March 31 to April 4 for appearing before the CBI in Goa.
Adani was arrested by the investigating agency on February 27 for allegedly evading customs duty on petroleum products, causing a loss of Rs 1.07 crore (Rs 10.7 million) to the state exchequer.
He got bail the very next day of his arrest, after his brother Vasant Adani filed a habeas corpus petition before the Gujarat hight court.