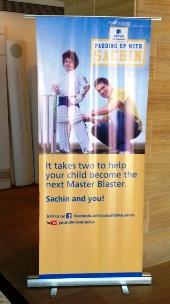 To help young fathers realise the importance of financial planning for their children's secure future, Aviva India on Tuesday unveiled its social media strategy based on creating and feeding engaging content in the social media channels.

Through the new campaign -- 'Padding up with Sachin' and 'Sachin Off Guard', launched on Tuesday, Aviva aims to strengthen its association with fatherhood and protection.

These are a series of webisodes on cricket tutorials and interviews on importance of protection by Aviva's Brand Ambassador and the Master Blaster -- Sachin Tendulkar.

The campaign will be followed up with aggressive digital advertising meant for the company's target audience -- young parents between 28 and 44 years.

For the first time ever, netizens will have access to innovative, inspirational and conversation-like tutorials on cricketing
by the Little Master himself.
Speaking on the occasion, Rishi Piparaiya, director, marketing and Bancassurance, Aviva India, said, "Our vision on social media is to build a community of financially aware young parents and to achieve this, we see a significant role for both entertaining content for parents as well as infotainment around financial planning and Aviva's products as key pillars.
"In the 'Padding up with Sachin' series, each webisode starts with Sachin reminding the viewers about the importance of protection."
Aviva's Brand Ambassador, Sachin Tendulkar said, "Cricket is my passion and I am delighted to partner with Aviva to launch the 'Padding up with Sachin' tutorials.
These webisodes which showcase my successful moves on the pitch, will give fathers a chance to view and coach their children.
"The links to these videos will also be available on my Facebook page as well and I invite all to view and share the same".