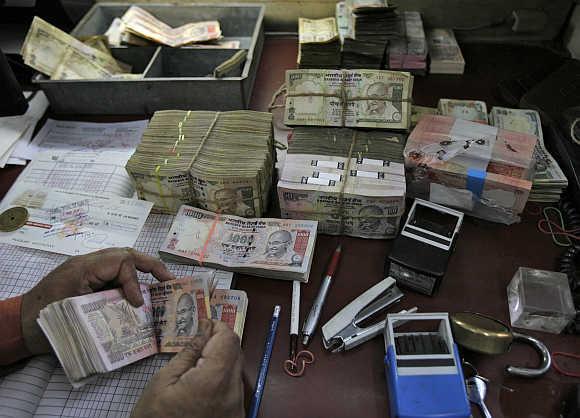 FinMin sets target for MUDRA loan, Jeevan Suraksha gift cheques

In January this year, Prime Minister Narendra Modi told public sector bankers at the two-day Gyan Sangam in Pune that his government would not interfere in their functioning. Finance ministry officials have been repeating that promise at every available public forum since then.
But chief executives of public sector banks say nothing much has changed except that the instructions are no longer written -- as was the case in the previous government -- but issued verbally.

The series of letters which the finance ministry wrote when the United Progressive Alliance was in power has been replaced by a four-hour video conference with finance ministry officials every Wednesday at 11 pm.
Executive directors of all PSBs have to mandatorily attend the meetings.
These meetings, which were initially aimed at reviewing opening of accounts under the Jan Dhan Yojana, have now become an interface to pass on directives to banks.

It's not just the EDs; such interactions will be held with chief executives of these banks as well ahead of big occasions like the MUDRA loan mela.

Bankers said there are at least two instances where government officials issued clear instructions to banks. First was about the MUDRA loan scheme for small scale industries.
The finance ministry has divided this into three sub-sections -- loans up to Rs 50,000, above Rs 50,000-Rs 500,000, and up to Rs 10 lakh (Rs 1 million).
The targets for banks have been more than doubled with the government wanting banks to disburse Rs 1.22 lakh crore (Rs 1.22 trillion).
Besides, instructions were issued on holding loan camps in the last week of September.

"We were earlier told lending is a commercial decision, which would be left to banks," said a chief executive of a PSB.

The second is Jeevan Suraksha gift cheques, launched ahead of Raksha Bandhan.
In this scheme, banks have been asked to issue gift cheques of Rs 351 and which could facilitate one-year premium of the Pradhan Mantri Suraksha Bima Yojana and the Pradhan Mantri Jeevan Jyoti Bima Yojana.

The PJ Nayak committee, which was set up by the Reserve Bank of India last year to review governance issues in PSBs, had voiced concern over the government's regular interference in the functioning of banks.
The committee recommended that in the best interest of the banks, the government should give up its control in banks and allow them to take decisions based on commercial viability.

Recently, the RBI in its annual report pointed out that while the government asks banks to carry out several 'public interest' activities like opening of accounts under Pradhan Mantri Jan Dhan Yojana, they are not compensated fully.
"We should recognise that PSBs undertake public interest activities that are not always fully compensated. Government should endeavour to keep the playing field competitive by fully compensating banks for activities it wants undertaken in public interest," RBI Governor Raghuram Rajan said in the central bank's annual report released last week.

INTERFACE FOR DIRECTIVES
The series of letters which the finance ministry wrote during the UPA government regime has been replaced by a four-hour video conference with finance ministry officials every Wednesday at 11 pm
Executive directors of all PSBs have to attend the meetings. These meetings, which were initially aimed at reviewing opening of accounts under Jan Dhan Yojana, have now become an interface to pass on directives to banks