Clock 11% growth in the first 11 months of 2022.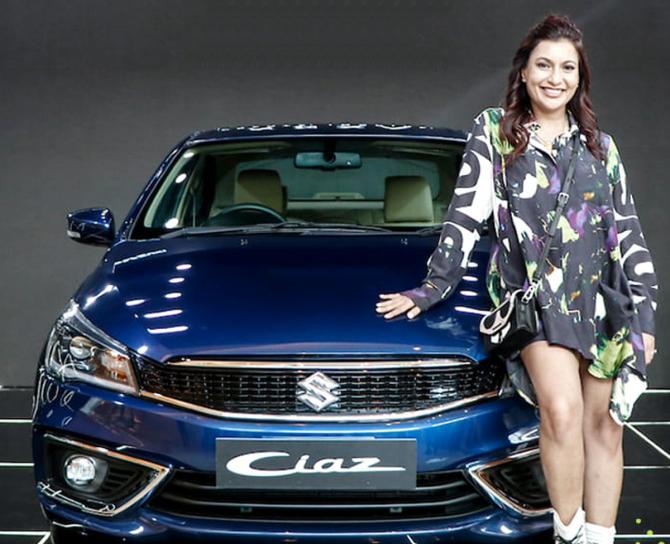 Notwithstanding global headwinds, passenger vehicle (PV) exports from India grew at a fast clip in Calendar 2022 (CY22), led primarily by a 28 per cent growth in exports by the country's largest PV maker -- Maruti Suzuki India (MSIL) -- during the year.
According to the Society of Indian Automobile Manufacturers (Siam) data, the overall PV exports clocked 11 per cent growth during the first 11 months of 2022, to 535,352 units.
The December export data is yet to be released by the automotive industry body.
MSIL beat its Korean rival Hyundai Motor India (HMIL) in exports in 2021-22 and managed to maintain momentum.
HMIL, too, saw strong growth of 13.7 per cent in exports in CY22, to 148,300 units, up from 130,380 units in 2021, reveals data.
MSIL, on the other hand, exported 263,068 units in CY22, up from 205,450 units in Calendar 2021.
MSIL's exports grew threefold, stacked up against Calendar 2020 (85,208 units) and more than twofold versus the pre-pandemic year of 2019 (107,190 units).
MSIL's Managing Director and Chief Executive Officer Hisashi Takeuchi said: "Crossing the 200,000 milestone in exports for the second consecutive year signifies the trust, quality, reliability, performance, and affordability of our products.
"This achievement further aligns with our strong commitment to the Government of India's Make in India initiative to manufacture products to delight global customers."
He added, "We are thankful for the support from our parent company — Suzuki Motor Corporation — to enable us to leverage a wider distribution network across the globe. Further, adding more models to our portfolio helped sustain excitement in the export markets."
MSIL's export market network got a leg-up, thanks to its partnership with Toyota Motor Corporation.
Puneet Gupta, director, S&P Global Mobility, pointed out: "Last year has been one of the best years for MSIL.
It has since shown manifold increase. One reason is that it has partnered Toyota that is using the Suzuki portfolio for exports also. The upside: India's largest player is not only focusing on the domestic market, but on exports as well."
For instance, the Grand Vitara, produced by Toyota Kirloskar Motor, is exported from the country, apart from domestic sales.
The company primarily exports to countries in Africa, West Asia, Latin America, the Association of Southeast Asian Nations, and neighbouring regions.
It exports 16 models at present. In 2022, the highest exported models by MSIL were the Dzire, Swift, S-Presso, Baleno, and the Brezza, said MSIL.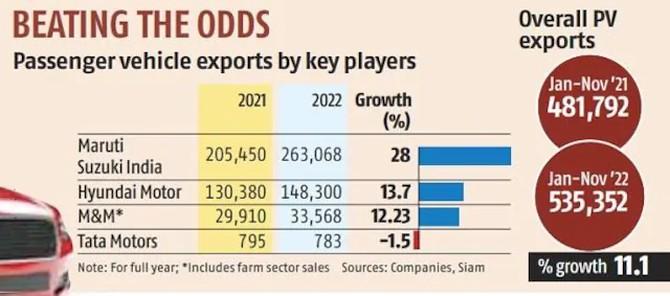 In July, MSIL Executive Director (Corporate Planning and Government Affairs) Rahul Bharti said in an analyst call that uncertainties of one market or one country having some kind of economic cycle always exist in exports.
"But the only strategy is that you have to spread yourself across more such markets and gain from more... The distribution network of our parent is helping us. So far fortunately, there is no such signal of inflation or any economic cycle affecting it," Bharti had said.
HMIL, meanwhile, which is a critical part of Hyundai Motor Company's global export hub, currently exports to around 85 countries across Africa, West Asia, Latin America, Australia, and Asia Pacific.
According to experts, a major challenge with both Hyundai and Kia is to maintain the pace of exports, as well as rising demand from the domestic market.
"Exports have become more of a constraint for Hyundai and Kia because of limited production capacity. Their exports in 2022 were good but in the years to come, they will be in a pickle whether to export or sell in the domestic market," said Gupta.
He added that for Hyundai, focusing on the domestic market is crucial as it cannot afford to cede market share.
Hyundai posted its highest-ever sales in the domestic market in 2022, selling 552,500 units, up 9 per cent from 505,033 units in 2021. It has an installed capacity of roughly 750,000 units per year.
After the semiconductor chip shortage issue tapered off, carmakers briskly ramped up production.
From mid-2022, capacity utilisation shot up for most players -- MSIL nearly used 95 per cent of its capacity in specific months.
It has an installed capacity of 2.25 million units per annum, Manesar, Gurugram, and Gujarat plants combined. The company has already commenced work at its new facility in Haryana's Kharkhoda.
The plant is expected to be operational by 2025 with an installed production capacity of 250,000 units in the first phase.
One major drawback for the Indian export market in recent years was the withdrawal of players like Ford and General Motors.
While upbeat about the domestic market that is expected to grow 5-6 per cent in 2023, experts indicate that to sustain this domestic growth, Indian manufacturers will have to compromise on exports.
Mahindra & Mahindra, too, saw a 12.2 per cent jump in exports for 2022, including exports from its farm equipment sector.
According to Siam data, its PV exports saw marginal dip, from 6,376 units in April-November 2021 to 5,444 units during April-November 2022.
Feature Presentation: Rajesh Alva/Rediff.com