As Tata Motors gears up for test production, it is targeting 200 Nanos daily from its Sanand factory by March 2010, according to vendors.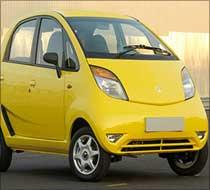 Local suppliers, who did not want to be identified, have said they had been asked by the company to supply components that would support production of 200 cars a day. The company plans test production of 50-60 cars per day from January. Currently, it is working on trial runs of Nano engines.
While the plant will be operational in the last quarter of this year, production is likely to be ramped up by August next year. Tata Motors plans to roll out 72,000 to 80,000 cars from Sanand, close to Ahmedabad, in the next financial year. The plant will have an annual capacity of 350,000 units.
It is currently producing the Nano from its Pantnagar facility in Uttarakhand, where 100-120 Nanos are being assembled every day, with the engines produced in Pune. The company had indicated a couple of months earlier that it plans to take up the capacity at Pantnagar from the present 2,500-3,000 cars a month to around 4,000 cars soon.
Vendors sources also indicated that production at Pantnagar would continue even as the mother plant at Sanand becomes operational. Tata Motors has an order-book of around 200,000 Nanos. The company began deliveries of the world's cheapest car from July this year and has delivered 7,500 vehicles so far.
By the earlier schedule, Tata Motors was to complete deliveries to 100,000 allottees by the last quarter of 2010 and for 55,000 others within two years from the date of allotment.
The Nano is selling at a Rs 10,000-25,000 premium in the used-car market, with many cashing on the initial interest on the most hyped car in the Indian market in the past couple of years.
The company has not allowed transfer of allotments, to discourage bulk buying and illegal sale of allotments.