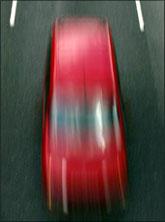 "What's good for America is good for General Motors and vice-versa" -- said Charles Wilson, president of GM, in 1953, when asked to become Secretary of Defence in President Eisenhower's administration.

This half-truth is among the most often quoted (and misquoted) statements in business history.

In a market economy, the health of the personal transportation industry is linked to the economic health of the nation. However, the health of a specific auto-player is not that crucial.

The US economy did well for decades after GM lost ground and other US car-makers were challenged by competition from Japan and Europe.


The US remains the world's biggest car market and it continues to employ vast numbers across the auto value chain.

Any powered vehicle has thousands of components manufactured by dozens of different businesses. Downstream, there's an intricate sales and distribution network, and maintenance and repair as well.

The auto-industry's cycles are therefore, deeply sensitive to variables that affect the entire economy.

There are direct links to the financial industry, both in hire-purchase and insurance.

Vehicle sales also reflect consumer confidence very strongly. Strong vehicle sales have a bootstrapping effect, lifting the entire economy.

Conversely, slowdowns in the auto sector cause a negative effect across the entire economy.

Until April 2011, auto sales were
fine. In FY10-11, sales grew 27 per cent over FY09-10 in terms of units, and industry expectations were that FY11-12 would see around 15 per cent growth over FY10-11, with the apparent slowdown due to the higher base effect.
But sales in April 2011 and May 2011 suggest that 15 per cent growth may be optimistic.
Domestic sales growth in April showed a slowdown and growth in May 2011 was low compared to April 2011. Exports saw declines.
Inventories at dealer level increased. Maruti saw its slowest monthly sales growth in two years and Tata Motors saw contraction.
The negative factors affecting buyers include higher interest rates and higher fuel prices. From the manufacturers' perspective, too, higher rates hurt, and so do rising input costs that are difficult to pass on.
Metal prices, in particular, have surged over the past six months.
If this is a downturn, and not just a quarterly blip, it could last quite a long time.
Share prices in the auto sector have started to react down in response to the sales data. From peak to low, in this particular cyclical industry, two-thirds being shaved off market values is quite normal. Equally, share values tend to triple or quadruple during an upturn.
Many of the majors are listed and available in the futures segment. Auto shares spectacularly outperformed the benchmark indices through 2009 and 2010. They could be among the most attractive shorts of 2011.
The author is a technical and equity analyst