Factors like high fuel prices, higher insurance cost and firm interest rates kept buyers away, especially in case of passenger vehicles, reports Ajay Modi.
Illustration: Uttam Ghosh/Rediff.com.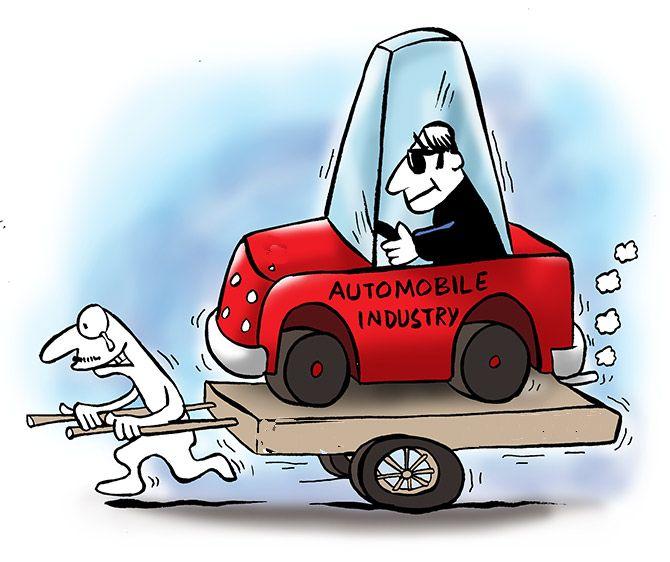 Retail car sales seem to be declining this financial year in spite of a six per cent expansion in wholesale numbers reported by manufacturers.
Data from Federation of Automobile Dealers Association (FADA) shows that total registration of passenger vehicles (cars, vans and utility vehicles) has declined by more than a per cent to 1.62 million units during April 1-November 20 this year, becoming the only segment of automobile industry to see a dip in registrations.
FADA, the apex body of automobile retail industry, said on Friday that registration of two-wheelers grew by 5.3 per cent to 9.31 million units so far in FY19.
The registration of commercial vehicles jumped by 30.6 per cent to 688,367 units.
However, registration of passenger vehicles (PVs) declined over 1.4 per cent to 1.62 million units.
In all these cases the growth in registration is lower than the growth in wholesale dispatches (sales from manufacturers to dealers).
The wholesale growth in two-wheelers during April-October was 11 per cent to 1.36 million units.
Similarly, the growth in wholesales of commercial vehicles was 35.6 per cent to 574,463 units.
The stark contrast between wholesale and registration is evident in case of PVs.
FADA claims that total registrations are down by more than one per cent while dispatches have increased six per cent to about 2 million vehicles.
This implies that dealerships are sitting on large unsold inventory.
Maruti Suzuki, which has a fifty per cent share in domestic PV market, did not respond to a query on retail sales.
The company announces wholesale data every month, where it has seen a growth of nine per cent during the April-October period.
Manufacturers had built up stocks with dealerships over last three-four months in the anticipation of a buoyant festive demand.
Factors like high fuel prices, higher insurance cost and firm interest rates kept buyers away, especially in case of passenger vehicles.
FADA has done a comparison of the festive sales during a 42-day period of 2018 (October 10-November 20) with 2017 (September 21 to November 1).
Festivals fall on different dates every year.
The association said there has been an 11 per cent dip in total automobile registrations during the festive period of 2018 to 2.04 million units.
These numbers cover 80 per cent of the domestic market, FADA said.
The worst performing segment during this year's festive season has been the PVs, where registrations have dipped by a sharp 14 per cent to 287,717, FADA said.
Two-wheelers were not behind with a 13 per cent dip over last year's festive season registration to 1.58 million units.
Commercial vehicles, however, managed a double-digit growth of 16 per cent to 119,597 units.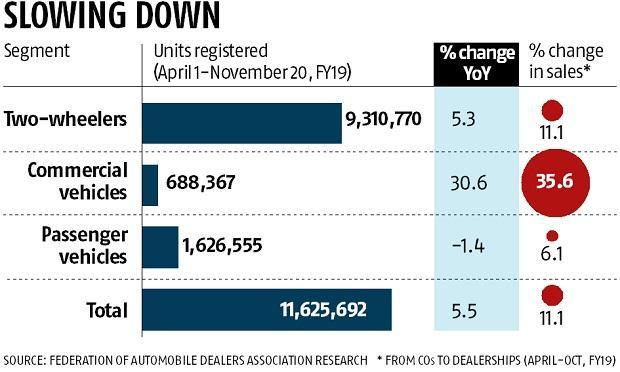 "We have not seen such a dull festive season in the past few years as many negative factors came into play during this season which weakened the consumer sentiment and postponed their purchase decision. It is a matter of deep concern for the dealer community," Ashish Harsharaj Kale, president at FADA said.
FADA said that with fuel prices softening from October end, Diwali saw a sales uptick, especially in two-wheelers but overall, there has been an unusual decline during the combined festive period, both in two-wheelers and PVs.
"Dealer inventory levels in both these segments have risen substantially as a result of this and is a matter of great concern. The ongoing NBFC liquidity issue also is a concern for all the segments," said Kale.