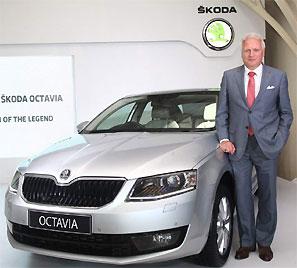 The new generation of Skoda's bestseller rolled off the production lines of the plant in Aurangabad on Friday. The new Octavia boasts of great roominess, high functionality and incorporation of latest technology, making it a fantastic value for money product.
"The new Octavia is now being produced at purpose-built facilities in one of the international growth markets. By far our most important model in the Indian market is also an engine of growth for ŠKODA," said Skoda CEO Winfried Vahland.
The third generation is the largest, most practical, safest, most comfortable and environmentally friendly Octavia ever.
The Octavia boasts of unrivalled space, a timeless and elegant design, high functionality, innovative safety and comfort systems, economical consumption, many Simply Clever ideas and typical Skoda value for money.
The car is in a class of its own and offers mid-class qualities for the price of a compact car.
Between November 2001 and October 2010, 44,900 Octavias were sold in India. "At its premier in 2001, the first Octavia redefined its segment in India," says Vahland. To date the car has enjoyed cult status in India.
It owes this to its perfect engineering, commitment to quality and style as well as the combination of functionality and technology. This has ensured that Skoda has become a multi award-winning top brand in India.