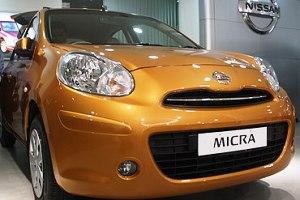 Nissan and Renault may finally decide to do away with the dual use policy of each vehicle platform after both companies have hit demand saturation resulting in heavy discounting and cannibalisation among products.

Nissan, Japan's third largest auto maker and Renault, France's second largest car maker, share vehicle platforms, engines and several components to meet economies of scale and generate volumes in India, where they use a common manufacturing facility in Chennai.

Products such as Nissan Micra and Renault Pulse, Nissan Sunny and Renault Scala largely carry similar styling and design. Even vehicle interiors are shared by the two companies.

Shift in consumer choice has resulted in a steady decline in volumes of Nissan's entry car Micra and paltry performance by Renault's Pulse.

Volumes of the Micra declined by 39 per cent last financial year to 11,449 units as compared to 18,633 units sold in 2011-12.

Less than 5,600 units of the Pulse, which falls in the same price bracket, were sold last year, according to data provided by SIAM.

Segment leader Maruti Swift sells more than 15 times the volumes achieved by the Micra.

A Nissan dealer in Bengaluru is offering consumer benefits of upto Rs 100,000 on Micra to clear stock presently with prices starting at Rs 407,000.

Sources said that the upcoming compact SUV from Nissan (to be launched this year) which is based on Renault's Duster platform could be amongst the last products to follow the cross-badging lineage.

The five-seater Duster is the best-selling urban sports utility vehicle in the country currently.

Confirming the plans to separate their products Kenichiro Yomura, president of Nissan India Operations, managing director and chief executive, Nissan Motor India said, that it was necessary to cross-badge models to achieve cost competitiveness.

However this activity would be kept limited to the current phase and the next phase would see individual products by both companies.

"India is a very competitive market and we came in late.

"In order to be cost competitive, we needed to be a big volume player from the beginning.

"We shared products with Renault and both companies sell products in domestic and export (market). "By doing that, we achieved big volumes in three years.

"This was unprecedented. Otherwise, we are still at 100,000 production level and we suffer from amortisation and there is no (other) way to become cost competitive," said Yomura. Nissan is in the process of making fresh investments in India for setting up a new plant as the existing plant having installed capacity of 400,000, would reach exhaustion soon.

The company is planning four products this year including the launch of Datsun-branded car in July.

"Sometime in the future, I think we need to create another (capacity).

"We are looking at an additional area but no concrete plan as of now. There could be opportunities to set up a new plant," added Yomura.

A Duster-based SUV, a refreshed Evalia and perhaps a face-lifted Micra will be amongst the products planned under the Nissan badge this year.

The company intends to nearly triple sales in India to 100,000 by March next year from little under 37,000 units sold last year powered by the new launches, increased marketing efforts and rise in dealerships.

The company plans to have 145 dealers by the end of March this year compared to 95 dealers now.

Seven of every 10 cars made by the company are exported.

Last year, the company exported nearly 100,000 units and expects to maintain the rate this year too.
Image: Nissan Mirca | Photograph: Hitesh Harisinghani