If you think the XL6 is a brand new, from-the-ground-up car, you have another think coming, says Pablo Chatterji.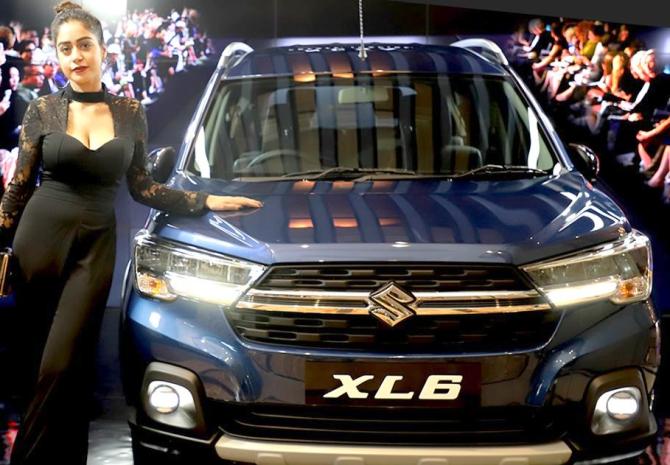 The Indian automotive industry is in the middle of a fearsome slump, with sales in July this year down 31 per cent over July 2018.
Maruti Suzuki, the industry behemoth, has taken a scarcely believable hit of 36.7 per cent over July of last year, and when MSIL catches a cold, you know you should expect an epidemic of flu among other automotive brands.
In the midst of all this doom and gloom, what is a manufacturer to do? If you're MSIL, you select your best brave face, take it on the chin and plough forward, and one of the results of this bravado is the new XL6.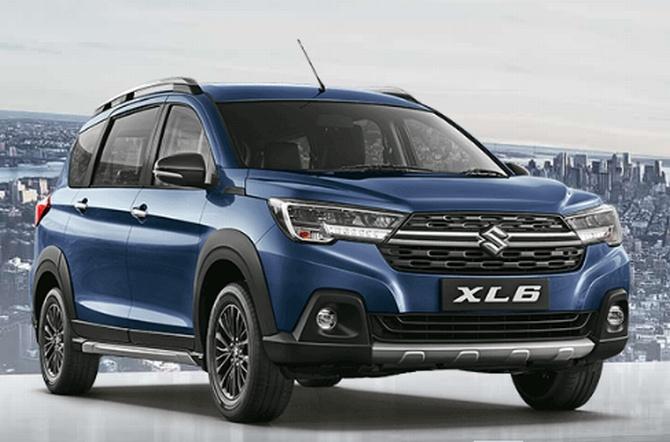 I will be honest here -- if you think this is a brand new, from-the-ground-up car, you have another think coming.
The XL6 is the Maruti Suzuki Ertiga, except with much nicer clothes -- it's the fashionista to the Ertiga's bland dresser.
And no, XL doesn't mean "extra large" (although it is a little larger -- more on that later). Rather, it stands for "exclusive", with the 6 indicating that it's a 6-seater, as opposed to the Ertiga's 7-seat status.
Since it's become all fancy, the XL6 will only be sold in MSIL's premium Nexa showrooms.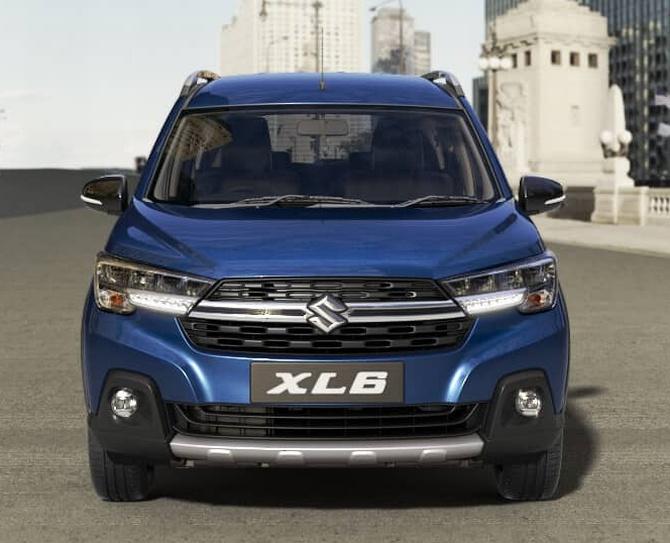 What Maruti has tried to do, to begin with, is to make the XL6 look as much like an SUV as possible, since that category of vehicle is the flavour of the season.
It has a redesigned front end, with a larger grille, slick LED headlights, a different fog lamp cluster, a bonnet line that has been raised and a grey scuff plate -- all of these elements work quite well.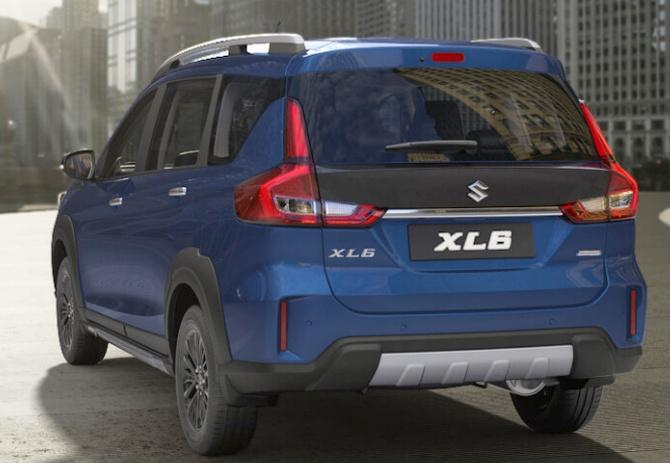 Move to its profile and you'll find roof rails, another scuff plate at the rear, copious amounts of bumper cladding and rather small 15-inch alloy wheels, which don't fill out the wheel arches properly -- one size up would have been ideal, but aesthetics tend to be sacrificed at the altar of fuel economy in our country.
Nevertheless, the XL6 can be described as a reasonably handsome car, although it is by no means an SUV -- it cannot outrun its MPV genes.
In terms of dimensions, it is 50mm longer, 40mm wider and 10mm higher than the Ertiga, although both cars have the same wheelbase.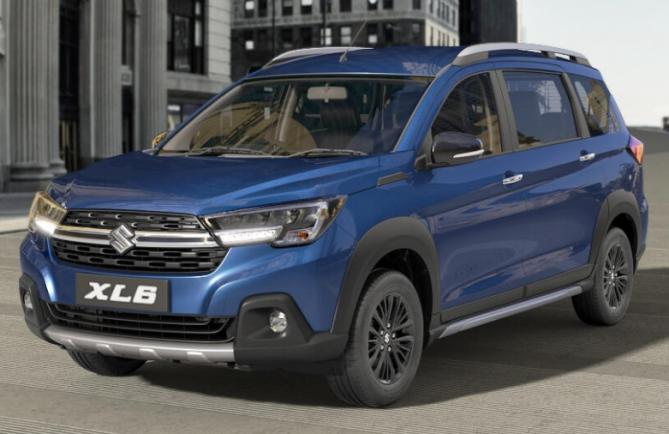 As with the exterior, Maruti has spruced up the cabin, with the most important element being the 2nd row twin "captain" seats, instead of the Ertiga's bench seat.
The overriding theme here is black, which is an attempt to give the cabin a premium air. You'll find Ertiga elements -- the dials and dashboard, for example -- but the XL6 does succeed at declaring it's the swankier sibling.
The seats have leatherette upholstery (which is a cooler way of saying faux leather) and are on the firm side, but overall comfort levels are good.
The third row of seats is a little difficult to access, and I would recommend that they're best left to the kids, because full-sized adults will find themselves a bit cramped for leg-room.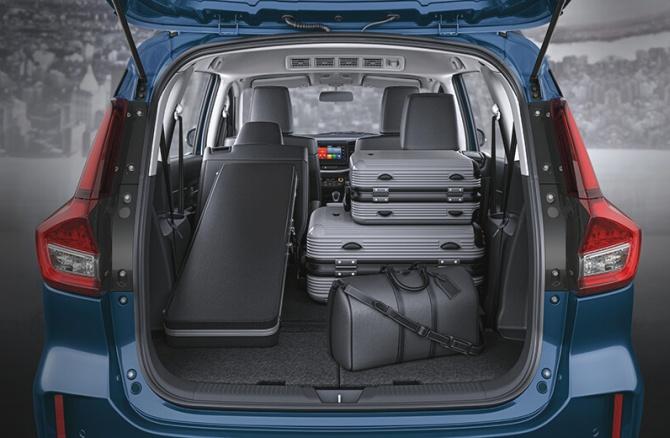 These seats fold flat, so if you wish, you can up your storage space to 550 litres, from 209 litres with them upright.
In keeping with the image it's trying to give the XL6, Maruti has launched the car in the top end Alpha and Zeta variants.
This means that you get features like keyless entry, a 7-inch SmartPlay Studio touchscreen infotainment system with Android Auto and Apple CarPlay, a reversing camera, cruise control, climate control, no less than 12 A/C vents, ESP, hill hold control and ventilated cup holders, among others (depending on the variant -- some are available in the Alpha and/or automatic transmission models only).
You can also option Suzuki Connect, which is an embedded e-SIM that has features like real-time driving alerts, emergency alerts and geo-fencing.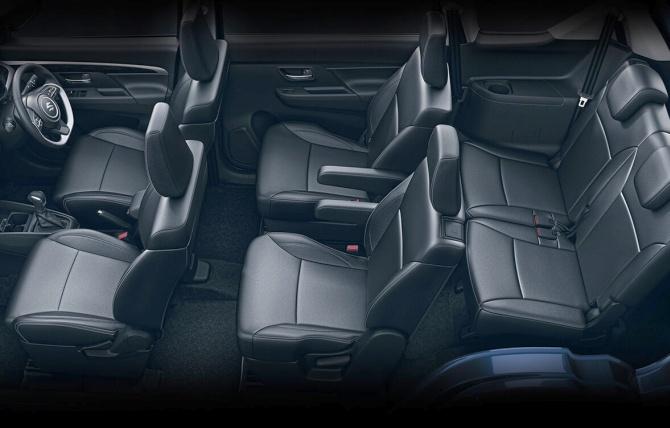 The XL6 is only available with Maruti's trusty 1.5-litre, BSVI-ready petrol engine, with mild-hybrid technology, so if you want a torquier diesel engine... well, you're out of luck.
However, this is one of the nicest engines in the market -- it's smooth, refined and has a peppy low-end character.
The mid-range tends to plateau, which means downshifting if you're in a hurry to get past that lumbering truck, but the top end is quite meaty.
Whether you choose the 5-speed manual gearbox or the 4-speed torque converter automatic depends on where you're likely to use the car most.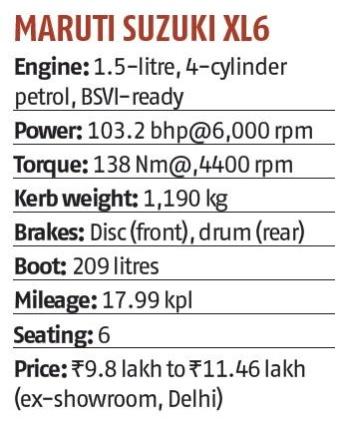 If long-distance driving is your thing, get the smooth-shifting manual; for city use, the (slightly slow) automatic is perfect.
As a highway cruiser, the XL6 is rather good, and its excellent ride quality and overall NVH levels mean that you can cover long distances in pretty good comfort.
The steering wheel offers a surprising amount of feedback for a product in this category, and the brakes have reassuring stopping power.
All in, at Rs 9.8 lakh to Rs 11.46 lakh (ex-Delhi), depending on the variant, the XL6 costs up to Rs 84,000 more than the top spec Ertiga, which seems like a fair amount of cash in these money-crunched times -- but it's also worth it.
The XL6 is a better looking car with nicer interiors and more features, and unless you absolutely must have seven seats, it's the one you should opt for.
At any rate, MSIL is certainly hoping that you will -- but it'll probably be just as happy if you bought pretty much any car from its portfolio, at this point.