Hyundai Motor India, the country's second largest car maker, on Friday said its plan for launching a small car in the Indian auto-market is "well on course".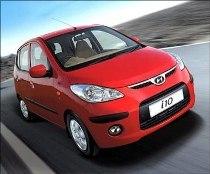 The Korean company which has presence in the A segment with flagship hatchback Santro and the i10 has been planning to launch the small car to compete with Maruti Suzuki's Alto.

The development of the small car has been taken up at the Research and Development centre in Korea. "It is on course... The development is going on in (South) Korea....," HMI Director (Sales and Marketing) Arvind Saxena told reporters here.
He said the company is "well progressing" on the launch of the car and it was going on "as per plan".
However, he declined to comment on the timeline set for its launch. The proposed small car would be positioned below the company's existing flagship model, Santro, and compete with the Alto from Maruti Suzuki.
Alto is the largest selling model in India with average sales of over 20,000 units per month. On their future plans, HMI CEO H W Park said the company is working on a strategy to launch new models every two years. "We will introduce two or three models in the next one year...," he said.
He said their premium SUV (Sports Utility Vehicle) Santa Fe would be launched in India next month.
On export front, Saxena said the company would witness a "minimal dip" this year in the overseas sales due to the slump witnessed in majority of the markets. "Last year 2,60,000 units were exported (to various markets).. this year we are expecting it to be around 2,50,000 units," he said.
Saxena and Park were here to introduce the company's upgraded hatchback Next Gen i10 in the Tamil Nadu market.
The company has spent around Rs 400 crore (Rs 4 billion) for upgradation of the car which boasts aggressive and all-new front design, a new chrome radiator grill, 3D wraparound headlamps with multi-reflector chrome surround fog lamps.
The 1.1 litre iRDE2 Next Gen i 10 comes with a introductory price tag of Rs 3,48,000 (Ex-showroom Chennai) while the 1.2 litre Kappa engine is offered at Rs 4,14,000 he added. Hyundai Motor India currently has two manufacturing facilities at Sriperumbudur near here.
Besides i10, the company retails Santro, mid-size sedan Accent Executive, premium sedan Verna Transform, luxury sedan Sonata.
The company exports to nearly 110 countries and this year it would be increased to 118 countries, they said.