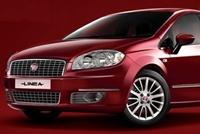 Fiat India Automobiles Ltd, a 50-50 JV between Fiat Group Automobiles and Tata Motors Ltd, has sold 10,000 units of its sedan, Linea, since its launch in January this year.
The number assumes significance as Fiat had sold only 3,550 cars in this period last year.
Fiat's Grande Punto also witnessed a remarkable sale of over 5,000 units within three months of its introduction.
"Fiat has been deeply-rooted in the Indian psyche for many decades now and we want to see a lot many Fiat vehicles plying on Indian roads. The milestone achieved by Linea is a testimony that we are inching closer towards this goal," FIAL's CEO Rajeev Kapoor, said in a press statement.