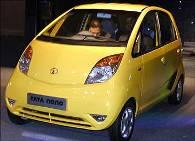 Ratan Tata, chairman of the Tata Group, has been conferred the honorary degree of Doctor of Law for his role in producing the world's cheapest car Nano.
The degree was conferred by Prince Philip, the Duke of Edinburgh, who is also the chancellor of the ancient seat of learning.
Tata was among eight individuals similarly honoured at a special ceremony on Monday. The citation for Tata, in Latin, was read out by Dr Rupert Thompson from the Faculty of Classics.
The citation said: "Buying a car was once an expensive affair, which the majority in India could scarcely imagine. But then our honorand came along and produced the Tata Nano, the cheapest car ever built."
Recalling his family's and group's contribution to India, Tata said: "We have always tried to help people in need. One of the tenets of the Tata family has been, you acquire wealth to distribute it."
"So 65 per cent of dividends of our holding company go to charitable trusts which distribute that, so we have been doing it for a hundred years," he said.
During his visit to Cambridge, Tata met several academics at the Institute for Manufacturing and the Centre for Advanced Photonics and Electronics.
Other individuals honoured were George John Mitchell (United States Special Envoy for Middle East Peace), Dame Louise Napier Johnson (Professor of Molecular Biophysics and Emerita in the University of OxGeoffrey William Hill (Professor of Literature and Religion Emeritus, Boston University). Richard Sennett (Professor of Sociology and Academic Governor, The London School of Economics and Political Sciences), Sir Harrison Birtwistle (Professor of Composition Emeritus, King's College, University of London) and Dame Evelyn Elizabeth Ann Glennie were also honoured on the occasion.