Indian auto industry's dependence on China is high and it will continue to be so in the BS-VI era and as the country moves towards electric mobility. Domestic players lack both technological competence and the sheer pricing advantage that support Chi­nese imports.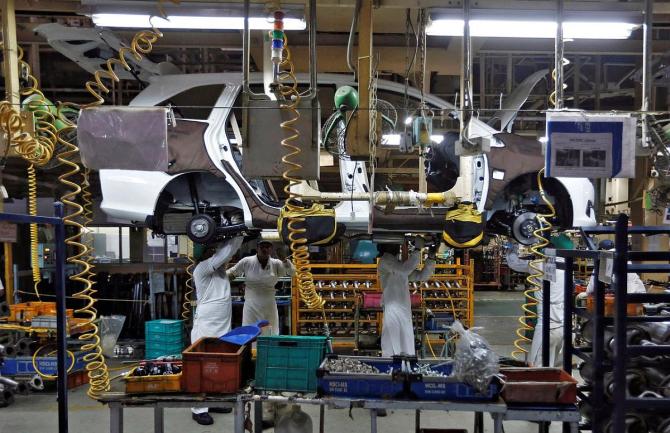 Last month after 20 Indian soldiers were killed in a border clash with China, one of the immediate reactions from the government was to ask Indian manufacturers - including automobile, pharma, leather, electronics, textiles and others - to cut imports from China.
As with other sectors, this is easier said than done for the $118 billion automobile industry.
The fact remains that the Indian auto industry's dependence on China is high and it will continue to be so in the BS-VI era and as the country moves towards electric mobility.
Last year, auto components worth around $17 billion were imported into In­dia, of which 26 per cent, or $4.5-billion-worth parts, ca­me from China.
The balance came from South Korea (13 per cent), Germany (12), Japan (9), USA (4), Thailand (6), Singapore (5) and Italy (3), according to data from the Auto Component Ma­nufacturers' Association of India (ACMA).
The Indian auto components sector is worth about $57 billion.
The industry estimates nearly 2 per cent of the components in a passenger car are from China and without those parts - from engine, transmission, suspension, braking, cooling and steering systems to electronic and electrical items - cars will not be rolled out from the manufacturing lines as the automotive value chain is a highly complex, integrated and interdependent one.
"We don't import because we like to, but because we have no choice.
"Either the product is not made in India or the one made in the country does not have the desired quality or is too expensive," R C Bhargava, chairman of Maruti Suzuki India Ltd (MSIL), the country's biggest carmaker told PTI.
Maruti Suzuki India doesn't import directly, but its vendor partners import components from China, which in turn go into MSIL vehicles in one way or another.
Company officials could not quantify the percentage of Chinese components in the MSIL products.
Domestic players lack both technological competence (especially in electronics and BS-VI components) and the sheer pricing advantage that support Chi­nese imports, added ACMA's director general Vinnie Mehta.
According to the industry sources, products im­ported from China are 20-50 per cent cheaper, depending on the product.
As Sandeep N, executive vice president - sales, Bosch Limited India, pointed out, "We have to address the challenge of cost competitiveness in India."
The government's order is, however, forcing manufacturers to take steps towards "deep localisation" in order to de-risk business from Chinese imports.
"There is no denying that the industry needs to be atmanirbhar (self-reliant)," says Mehta, but points out the need for the industry and the government to define a road map together and deliver accordingly.
For example, the cost of borrowing for even larger companies is 9-11 per cent against one per cent in Japan, Germany or the US, the world's key automotive manufacturers. Logistics expand cost 10-12 per cent, and the cost of energy in China is one-fourth of that in India.
Apart from easing the "doing business" environment, lowering borrowing and energy costs and working towards globally competitive logistics, ACMA has suggested that emphasis on research and development and tie-ups with academia should be strengthened.
"India should welcome investments from China as they are needed for job creation and technology absorption.
"We should, however, not be serving our domestic market on a platter, we should ensure that investments lead to creation of Indian IPs as also exports," an ACMA statement said.
The Association also wants quality standards to be tightened so that imports don't flood India from China and through free trade agreements.
"When components are supplied to the vehicle industry, we adhere to the Automotive Industry Standards (AIS) that come from the Central Motor Vehicles Rules.
"These are mandatory. That apart, there are Bureau of Indian Standards rules also for automotive products sold in the aftermarket, but these are not mandatory," said Mehta.
Sandeep said scale and cost competitiveness are the two decisive factors when it comes to localisation and reducing dependence on imports.
High investments and the gestation period involved in developing tooling remain the key challenges for the auto industry in localisation.
Anuj Sethi, senior director, CRISIL Ratings added, dependence on China can be reduced, but only gradually since the automotive vendor approval process is complex and takes two to three years for quality and safety reasons.
The big opportunities lie with electronics as vehicles are becoming more connected and automated.
Currently more than 75 per cent of all electronic equipment used in the cars sold in India are imported.
Photograph: Adnan Abidi/Reuters