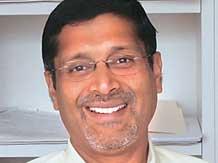 Noted economist Arvind Subramanian is favoured as the choice for the government's Chief Economic Advisor (CEA).
It has been vacant since Raghuram Rajan resigned almost a year before, to become governor of the Reserve Bank.
His name is learnt to have gone to the Appointments Committee of the Cabinet for approval.
Subramanian is presently a senior fellow, Peterson Institute for International Economics and Centre for Global Development, based in the US. In 2011, Foreign Policy magazine had named him one of the world's top 100 global thinkers.
He was earlier assistant director in the research department of the International Monetary Fund. He had served at the GATT (1988–92) during the Uruguay Round of trade negotiations and taught at HarvardUniversity's Kennedy School of Government (1999–2000) and at Johns Hopkins' School for Advanced International Studies (2008–10).
His works have been published widely in dailies, and in academic and other journals. He has also written extensively in this newspaper.
If selected, he will head a team of economic advisors who bring out the government's annual Economic Survey. The latest one, for 2013-14, has already been issued, coordinated by principal advisor Ila Patnaik.
The team headed by the CEA also pens a mid-year analysis of the economy, presented in the winter session of Parliament.
The CEA basically heads the economic division and Indian Economic Service division in the finance ministry.
The main activities here include monitoring macro economic trends and policy issues. With larger economic growth expected to only gradually recover this financial year from sub-five per cent in 2012-13 and 2013-14, and inflation still to show a consistent pattern of a decline, Subramanian will have no shortage of work.