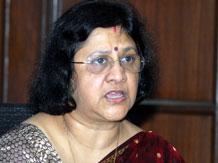 Arundhati Bhattacharya was on Monday appointed chairperson of State Bank of India, first woman to head the country's largest lender in its 207-year history.

Bhattacharya, 57, front-runner for the post on account of years of service left, was managing director and chief financial officer of the bank prior to her elevation.

Bhattacharya assumed charge as the chairperson of the bank on Monday, succeeding Pratip Chaudhuri who retired on September 30, an SBI statement said.

SBI, which has a chairman/chairperson unlike other public sector banks who have a combined post of CMD, has four MDs.

Bhattacharya's elevation leaves one MD post vacant.

It also has over a dozen Deputy MDs and over 35 Chief General Managers.

Bhattacharya joined SBI as a probationary officer in 1977 and has had stints in areas such as retail, treasury and corporate finance during her 36-year career.

She has held various positions, including deputy managing director and corporate development officer, chief general manager of Bengaluru circle and new businesses and head of its merchant banking arm, SBI Caps, the statement said.

Bhattacharya also played an important role in setting up general insurance, custody services and SBI Macquarie Infrastructure Fund subsidiaries, the statement added.

She also had a stint at the bank's New York office as the head of external audit and correspondent relations, SBI said.

Her appointment comes at a time when the government is all set to open the country's first bank dedicated for women, Bhartiya Mahila Bank.

Bhattacharya joins other women heading public sector banks -- Allahabad Bank (Shubhalakshmi Panse) and Bank of India (VR Iyer) and private sector banks -- Chanda Kochhar of ICICI Bank, Shikha Sharma of Axis Bank and Naina Lal Kidwai of HSBC India.

SBI and its five subsidiaries today control over one-fifth of the nation's banking assets and is the 66th largest bank in the world.
Image: Arundhati Bhattacharya; Courtesy: Business Standard