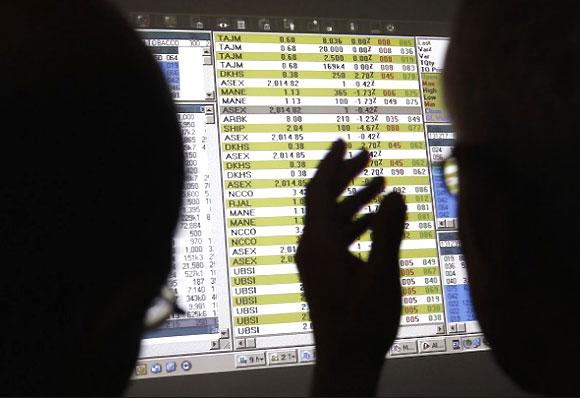 In the first arrest in the NSEL's Rs 5,600 crore (Rs 56 billion) payout scam, a top official of the beleaguered spot commodity bourse, which defaulted on its payment for the eighth time in a row yesterday, was held on Wednesday by Mumbai police's Economic Offence Wing (EOW).
Amit Mukherjee, vice-president at National Spot Exchange Limited's (NSEL) business development department, was called for questioning and subsequently placed under arrest for his role in the scam, Additional Police Commissioner (EOW) Rajvardhan Sinha said.
The first arrest came a day after the investigators "briefly" recorded the statement of Jignesh Shah, Chairman and Managing Director of Financial Technologies (FT) that promotes the NSEL, along with other directors Joseph Massey, Shreekant Javalgekar and Dewang Neralla.
Suspecting large-scale money laundering in the scam that broke out two months ago, the Enforcement Directorate (ED), meanwhile, sought details of the case from Mumbai Police, indicating that the central agency could also initiate a probe into it soon.
According to police, Shah had allegedly put the blame squarely on Mukherjee and former bourse MD & CEO Anjani Sinha for the fraud. Anajni was yet to show up before the investigators.
Mukherjee had introduced new members, investors, clients and companies to NSEL, including those firms that defaulted in making payments, an EOW officer claimed. The investigators wanted to grill Mukherjee since September 30, the day an FIR was registered in the case but he was allegedly evading cops.
"We had also gone to his residence in Mira Road but he could not be traced. Today he appeared before us and we arrested him in the case," the officer said.
The FIR was filed by the EOW against Shah and Massey, who is the managing director and CEO of MCX Stock Exchange, which is also promoted by FT, and other promoters, directors, officials and defaulters.
All of them are charged with cheating, forgery, breach of trust and criminal conspiracy, among other offences. On October 1, the CBI had registered a preliminary inquiry to look into all aspects of the scam.
The NSEL has been facing problems in settling Rs 5,600 crore dues of 148 members/brokers, representing 13,000 investor-clients, after it suspended trade on July 31 on government's direction.
"The ED officials have asked us in writing to provide them a brief about the NSEL scam. We will soon send them the details," an EOW officer said.