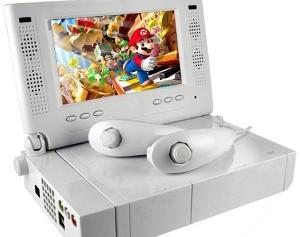 If you are a Nintendo Wii fan like president Barack Obama, who bought one for his daughters as a Christmas gift, then buying Wii add-ons has to be your civic duty. No kidding. It is not only a fantastic gaming platform for both children and parents, but its motion-sensitive controls can never stop amazing you.
With the Wii console, players can use the motion sensor, the game controller remote, as a tennis racket or even a baseball bat during a gameplay.
But even then, you can't shrug off the feeling of the Wii remote being a tad short for Wii Golf, or it not giving the same swing feel as a tennis racket. Therefore, game accessory makers have created facsimiles of sports equipment to attach to your Wii.
We tried out a couple of Wii sports packs recently. Here's what we found:
Nerf Sports pack for golfers: Price: Rs 950 (approximately)
This sports pack is not yet retailing in India, but you can easily order one online with some extra shipping charges.
The Nerf Sports Pack consists of a soft tennis racket, a baseball bat and a golf club. The Wii remote needs to be inserted into a handle that can be attached to any of the three peripherals.
While in real sports you would be holding a cylinder, with this sports pack you would actually hold a partial cylinder with a Wii stuck into it, which can be a little discomforting. But what is guaranteed is that all these extensions will add new thrills to the game.
We started with a few rounds of golf and we had to admit that this was probably the best use of the whole package, because the club-like feel while shooting was really great. Even though games on Wii can be played without the attachments -- via a simple swinging motion of the remote -- addition of a visible racket makes for better gauging of the trajectory of the ball during a game.
Simply put, for example, with the tennis racket attachment one can actually visualise the ball hitting the racket and judge the swing accordingly.
A combination of sturdy plastic and resilient foam gives the product a nice weight and control when held in the hand. Added control and safety is also achieved via the handle's rear panel, which contains a 'carved in' non-slip surface.
Overall, we really liked playing with the attachments. One big complaint that we have with the pack is how tricky it can be to undo the attachments from the base with the Wii remote.
There's a little button that you need to press for the attachments to slide apart. But actually it takes a bit of pressing and pulling to get them out. For about Rs 950 (excluding shipping charges), it's not a bad deal to have the whole pack.
In comparison, Brando's Wii Sports accessories look similar to Nerf's. If you're looking to add a new element to your Wii Sports habit, these should provide a whole new challenge. You get a tennis racket, baseball bat and a golf club with Brando's pack too.
The Wii remote fits into the thin plastic cradle that comes with the pack and each of the sporting accessories slide into place securely. The process is way graceful compared to Nerf's accessories. Brando's tennis racket amps up the realism as well, though holding a stubby racket can feel strange in the beginning.
These attachments may come in handy if you're planning to have your own Wii Sports exercise regimen, but there's a downside as well. Using these attachments completely removes the pick-up-and-play aspect of Wii Sports. A simple matter becomes an arduous endeavour.
So, unless you're going to use these things all the time, beware before buying.
Costing a little more than Nerf, Brando's Sports pack retails for Rs 1,100 (approximately) and is available with leading online retailers.
Nerf Wii Wheel-for racing enthusiasts: Price: Rs 720 (approximately)
For racing game enthusiasts, the Nerf Wii Wheel is the most realistic choice. Similar to the Nerf Sports Pack's design, the driving wheel contains an indentation that is sculpted to house the Wii remote during gameplay, especially titles such as Mario Kart and Need for Speed Undercover.
One flaw that seems common to Nerf attachments is removal of the attachments, in this case the Wii remote from the wheel.
The way the remote fits into the wheel's inner compartment so as not to let it fall out in the middle of a race, you have to press really hard to remove it. Nerf has made the wheel very comfortable; the soft grip makes it easy to hold through the game. It is an affordable buy at Rs 720 (approximately).
So, go and grab your helmet, buckle up and put your pedal to the metal. You are all set for Wii gaming.