Growth has been slowing year-on-year for the IT sector but investors have continued to bet on it.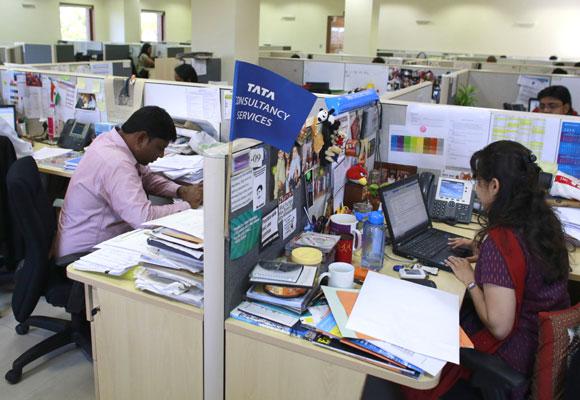 Tata Consultancy Services (TCS) issued a growth warning to analysts last week, bringing back questions on the information technology (IT) sector and its valuations.

The company conveyed sentiments appear to be weaker compared with what it expected at the start of the year.

The soft commentary suggests organic growth in constant currency will not be better than FY14, claim analysts.

The company continued to flag off macro concerns and did not give much clarity on spending budgets for 2015.
Going by its commentary and performance of the sector in the September quarter, it's perhaps time investors looked at the sky-high valuation of the sector, trading at 18 times one-year forward earnings.
Large companies in the sector are struggling to hold on to double-digit revenue growth (in dollars).

Analysts say the sector commanded such a valuation when it was growing revenue at 25 per cent in 2011 but is not justified with current growth rates. Growth has been slowing year-on-year for the sector but investors have continued to bet on it.

In the second quarter, the sector reported revenue/ Ebitda growth of 12 per cent to seven per cent against 15 per cent to 36 per cent in the corresponding quarter last year, Citi's Surendra Goyal and Rishi V Iyer said in a November note.
Despite this, the sector's valuations at 18x one-year forward earnings are at a four year high, from where it is difficult to be constructive, claim some analysts.

The warnings issued by TCS should put the sector's sky-high valuations back under the scanner, as growth has slowed. There is no denying growth is not coming as easily to either the legacy players or the new software services players in India.
Commoditisation of certain businesses and challenges in the enterprise business has seen revenue growth slowdown for almost all. Also, the currency is a wild card for the sector.

In the third quarter, TCS has conveyed revenue growth in constant currency will be impacted negatively by 220 basis points due to adverse currency movement. The situation will persist through 2015, which could continue to pose risks for the sector.
Motilal Oswal has cut dollar revenue growth estimates for TCS for FY15/16/17 by 1.1 per cent/2.6 per cent/1.6 per cent owing to weaker insurance and energy and higher cross currency impact.

The brokerage now expects dollar revenue growth of 15.6 per cent in FY16 (15.5% organic constant currency). Earnings estimates for FY16/17 have been pared by 4.2 per cent and 2.6 per cent.