ArcelorMittal may be interested in Bhushan Steel or Essar Steel, two of the five steel companies referred by the RBI for insolvency proceedings.
Ishita Ayan Dutt reports.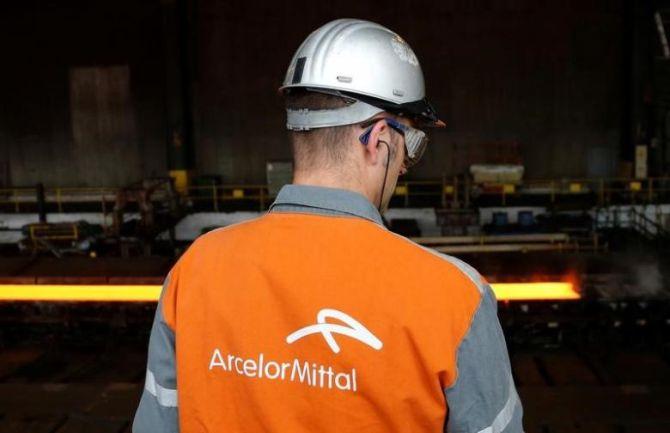 ArcelorMittal, the world's largest steelmaker, is likely to bid for stressed assets facing insolvency proceedings.
Among the 12 stressed accounts referred by the Reserve Bank of India for insolvency proceedings, five are from the steel sector: Bhushan Steel, Essar Steel, Bhushan Power & Steel, Monnet Ispat & Energy, and Electrosteel Steels.
In July, a team from SBI Capital Markets, which is advising lenders on restructuring packages for some of these companies, had visited London to meet ArcelorMittal's senior management.
The idea was to get ArcelorMittal to participate when the assets came up for bidding.
An e-mail to ArcelorMittal went unanswered.
Sources indicated that ArcelorMittal could be interested in Bhushan Steel or Essar Steel, depending on valuation, and was in discussion with a leading bank to evaluate and advise on the stressed asset buy.
Bhushan Steel has a steelmaking capacity of 5.6 million tonnes while Essar Steel has a capacity of 10 million tonnes.
Bhushan Steel's debt in 2015-2016 was Rs 44,478 crore (Rs 444.78 billion). Essar Steel's Rs 37,284 crore (Rs 372.84 billion).
ArcelorMittal has been trying to gain a foothold in India for a while now.
It signed a memorandum of understanding with the Jharkhand government in 2005 to set up a 12 million tonne plant in the state.
A year later, the company signed another MoU with the Odisha government for a similar-sized plant in that state.
Neither project made much headway.
In 2009, ArcelorMittal bought a 33.8 per cent stake in Mumbai-based galvanised steelmaker Uttam Galva Steels and a year later signed yet another MoU with the Karnataka government for a six million tonne steel plant, but that too remained a non-starter.
The company is now in talks with public sector Steel Authority of India for an automotive steel manufacturing joint venture.
Discussions have been on for some time though a breakthrough is expected in the next couple of months.
Bhushan Steel or Essar Steel could provide ArcelorMittal an entry into a growing market.
According to the World Steel Association, steel production in India is projected to grow at 6.1 per cent, the highest rate among the top 10 steel using countries.
The estimate for 2018 is 7.1 per cent.
If ArcelorMittal bids for Bhushan Steel it may be pitted against JSW Steel.
Recently, a consortium, including JSW Steel, lost out to another consortium led by ArcelorMittal for Italian steel plant Ilva.
Photograph: Francois Lenoir/Reuters