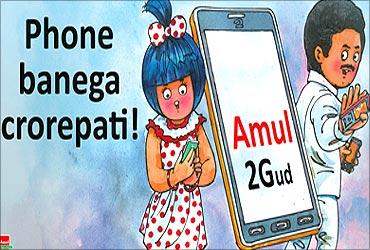 The Gujarat high court has refused to set aside an order which cancelled Amul's registration of its trademark TRIX, on which a US firm has claimed its right.

In July this year, the Intellectual Property Appellate Board had directed Registrar of Trademarks to cancel Amul's registration of TRIX trademark.

A Division Bench of Chief Justice Bhaskar Bhattacharya and Justice J B Pardiwala, in a recent judgement, dismissed the petition filed by Kaira District Cooperative Milk Producers Union Ltd, owner of Amul, seeking cancellation of trademark TRIX registered in favour of US food giant General Mills.

Amul, 35 years after registering the trademark and after General Mills' entry into Indian market as late as in 1995, had questioned the US firm's right over TRIX.

Gujarat Cooperative Milk Marketing Federation, which markets milk and milk products under Amul brand under a licence from the petitioner, registered TRIX (coined from the word TRICKS from the concept of appearing and disappearing tricks as in magic show) as a trademark in 1977.

"In 1986 we launched a chocolate under 'TRIX' trademark. We advertised it in a manner that it was so tasty that the chocolate bar just disappears/melts in mounth quickly," according to the petition.

However, Amul stopped using TRIX in 1987.

US food giant's subsidiary, General Mills India Pvt Ltd, came into existence in 1995. In 2005, it aplied for registration of trademark TRIX claiming that in various countries it was holding the same trademark since 1910.

Since Amul already owned the trademark, General
Mills India's application for registration was rejected.
Meanwhile, the US firm forayed into the Indian market by introducing a snack under the trademark DIP-TRIX.
At the same time Amul also planned a re-launch of its TRIX brand for a wafer-chocolate, which was introduced in 2007.
This led to a legal battle between the two giants.
Amul objected to unauthorised use of TRIX by General Mills. The US giant challenged Amul's claim over TRIX by filing a rectification application with Intellectual Property Appellate Board, Ahmedabad.
On July 16, 2012 IPAB directed the Registrar of Trademarks to cancel Amul's right over the trademark.
The dairy brand challenged the board's verdict in the HC, arguing that IPAB had erred in its ruling.
"The Board, despite taking on record and recognising invoices of the year 2007 for the sale of wafer chocolates under its registered trade mark TRIX, clearly erred in allowing the said application," Amul claimed.
"Rectification application could not have been allowed as there was use of its registered trademark 'TRIX' in December 2005 by AMUL leading to sale in May 2007 (of wafer chocolates) -- that is during the statutorily required period of non-use for a period of five years and three months before the date of rectification application," it said.
However, the Bench did not find any error with the board's conclusion.
"We are of the view that no error, much less an error of law, could be said to have been committed by the board in passing the impugned order.
"For the foregoing reasons, we do not find any merits in this petition and the same is dismissed," the HC noted.