While Jayalalithaa may have died her political legacy will continue to survive through the slew of 'Amma' branded products and services.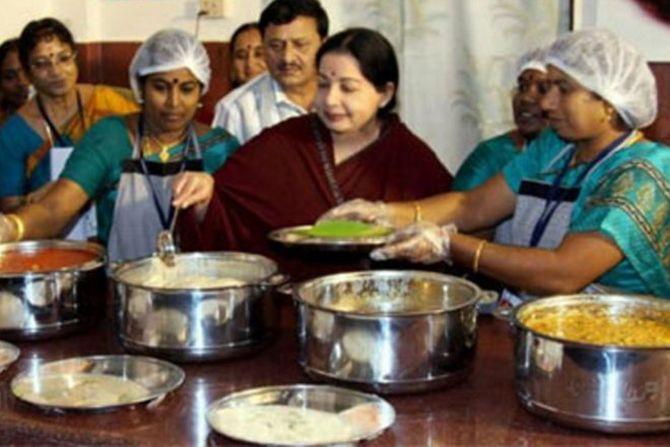 IMAGE: A file photograph of Jayalalithaa at an Anna Unavagam canteen. Photograph: PTI Photo.
Tamil Nadu's late Chief Minister J Jayalalithaa was no novice when it came to building her image. There is an impressive list of goods and services that Jayalalithaa launched as the chief minister of the state from 2011 to 2016. These not only touched the lives of the poor, but also benefitted the middle class immensely. The series of schemes under the Brand Amma made headlines.
Each one of these had Jayalalithaa's face on it. It was one of the most successful mass branding exercise in the world. From salt to grinders to bottled water to cement and even baby care products -- all of these were either free or at heavily subsidised costs.
People of Tamil Nadu were accustomed to seeing Jayalalithaa on everything that was essential for their survival.
A senior All India Anna Dravida Munnetra Kazhagam member said the idea behind Brand Amma was to touch people's lives in as many ways possible and to accelerate governance delivery in the state.
While this helped Jayalalithaa cement her position among Tamil voters as their messiah, it rankled her political opponents immeasurably. Political rivals such as the DMK and Desiya Murpokku Dravida Kazhagam and their strong leaders had their personality cults overshadowed by Amma's massive voter outreach through Brand Amma.
Here are some of the Amma brand products that became very popular:
Amma Water: These one litre water bottles called 'Amma Kudineer' available at interstate bus stops has been very popular among commuters. That's because at Rs 10, it is half the price of other branded packaged water. Even the Indian Railways sells its 'Rail Neer' at Rs 15 per bottle. That's 50 per cent more than Amma Kudineer.
This water is manufactured by the state's transport department at its plant in Gummidipoondi in Thiruvalluvar district. Established in 2003, it can process 300,000 litres of water a day.
The strategic placement of Amma Kudineer at long distance bus stops meant a grand visibility of her brand across all of Tamil Nadu's 32 districts. The AIADMK government also had plans to expand production facilities by setting up nine more plants. These could now be put on hold by Jayalalithaa's opponents.
Amma Canteen: This is one of the most radical steps taken by any politician after M G Ramachandran, who is credited for introducing the mid-day meal scheme. Called Amma Unvagam, these canteens are a lifeline for not only daily wagers and students but also for thousands of middle class working professionals.
Food served in these canteens are cheap and also nutritious and hygienic. A plate of two idlis is priced at Rs 2, while a plate of sambar rice comes at Rs 5 and a plate of curd rice costs Rs 3.
Though located in Chennai and select urban centres, these canteens endeared Jayalalithaa to voters, irrespective of their caste or class. Launched in 2013, the popularity of these canteens was one of the reasons Jayalalithaa swept the 2014 state elections.
Each canteen costs about Rs 5-6 lakh. Income in the past 12 months has crossed over Rs 15 crore. However, the Chennai Corporation was incurring a loss of Rs 5 lakh a day, as average daily expenses were at Rs 14 lakh and the average daily revenue was at Rs 9 lakh, according to an earlier estimation.
Corporation officials said the canteens in Chennai serve over 200,000 people a day. The model is being studied by other Indian states. It was reported that the Delhi government would set up highly subsidised 'Aam Aadmi canteens'.
Amma Salt: Jayalalithaa delivered this masterstroke in 2014, and most of the subsidised salt produced by Tamil Nadu Salt Corporation was rebranded with her name and face.
Amma Salt came in three varieties. The refined free flow variety was priced at Rs 10, at half the market price of other salt brands. The double fortified variety for Rs 21 per kg. The low sodium variety was priced at Rs 25 per kg.
With Amma Salt becoming a hit, the state government further reduced the price to Rs 8 a few months later. The state government had plans to launch the salt across India to project Jayalalithaa as a national leader.
While the AIADMK will continue this scheme, the party's political rivals could stop the use of Jayalalithaa's brand if they come to power.
Amma Pharmacies: These pharmacies were set up to provide cheap medicines at a time when pharma companies were selling lifesaving drugs at exorbitant profits. This also came as a boon to people with no medical insurance.
Medicines were sold at a third of their market price. Reports suggest this not only helped people but also forced some drug stores to reduce the prices of essential medicines to avoid losing their business.
Within a year of its launch, Amma pharmacies touched the 100 mark. Despite their limited reach, these became an instant hit among the poor and were one of the reasons Jayalalithaa retained power in the 2016 assembly elections.
Amma Mixer Grinders: Perhaps the most visible sign of Brand Amma in every Tamil household were the mixer grinders bearing Jayalalithaa's image. An essential tool in every kitchen, the mixer grinders were a symbol of Jayalalithaa's impressive march into the Tamil psyche.
From coastal towns to remote tribal hamlets to urban shanty towns, these appliances permeated every inch of Tamil society. This was one of the first promises she fulfilled after winning the state elections in 2011.
More than 10 million families were handed a package that consisted of a wet grinder, a mixer and a table fan. Each package cost the state exchequer Rs 5,000, but that was a small price to pay. With this move, Jayalalitha reiterated her impression as a leader who not only promises but also delivers.
While Jayalalithaa may have died, her political legacy will continue to survive through the slew of Amma-branded products and services.