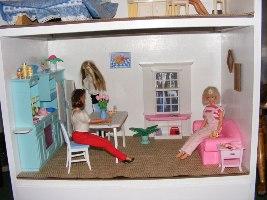 Senior Asia Pacific vice-president to visit India this month, apprise related parties of developments Mattel Inc, the world's largest toymaker, is sending its top brass to calm nerves at its Indian operations after senior managers, including country head Karun Gera, quit.

Peter Broegger, senior vice-president (Asia-Pacific), Mattel East Asia, will visit India this month in an attempt to restore confidence among stakeholders, rattled by a spate of departures by senior executives.

Broegger is expected to apprise suppliers, distributors and retailers of developments at the Mumbai office, the reason for the senior-level exits and the corrective steps the toymaker is taking.

A mail to Broegger remained unanswered till the time of going to press.

Besides Gera, the heads of operations and finance stepped down recently, following an audit of Mattel's Indian arm. Two other executives from sales and merchandise licensing had resigned for personal reasons some time earlier, persons in the know said.

Also, Manoj Kumar, the company secretary, has replaced the executive who quit as the representative of Mattel in the toymakers' association.

The senior executives left at Mattel India include marketing director Rahul Bhowmik, sales director Ritesh Bindal and personnel head Rasika Mahajani Malhotra.

The three are now running operations as part of a high-level team constituted by Mattel.

International managers have been used by multinationals to resolve controversial exits in their Indian operations.

Adidas, for instance, brought in senior managers from other countries, including from its headquarters, to put the company back on the rails after the controversial departure of its Indian head, Subinder Singh Prem, and other senior executives who faced various charges.

Once the leader in the country's Rs 2,000-3,000-crore (Rs 20-30 billion) organised toy market, Mattel has been losing ground to rivals such as Funskool, a joint venture promoted by MRF Tyres and Hasbro, the world's second-largest
toy maker.
In August 2013, an Assocham study pegged Mattel's market share at 20 per cent and the combined share of Hasbro and Funskool at 39 per cent (43 per cent if the market share of the Lego line, sold by Funskool, is added).
Industry insiders say Mattel has struggled to keep pace with Funskool, which has pushed Lego and toys based on characters from action films such as Transformers, Spider-Man and Iron Man aggressively in the past two years.
During his visit to India in October 2013, Broegger had said the company was counting on Bollywood merchandise, with tie-ups with films such as Dhoom 3.
However, sales for the company in December, when the film was released, were not very high.
In the past five years, about 40 per cent of Indian toy companies have shut shop, while another 20 per cent are on the verge of doing so, as Chinese products flood the Indian market, according to the Assocham study. Also, the market for toys has evolved in the past few years, with products for boys outnumbering those for girls.
Mattel, best known for its Barbie range of dolls, has no major product in the boys' segment.
Besides video games and action hero miniatures and toy cars, the boys' segment also has board games.
Funskool has various tie-ups to release merchandise for Captain America and the sequel to Amazing Spider-Man (to be released by the end of April), the fourth part in the Transformers series and Guardians of the Galaxy.
Branded toys cost between Rs 400 and Rs 3,500 for miniatures and Rs 300 and Rs 5,000 for dolls such as Barbie. Lego costs between Rs 500 and Rs 37,000 depending on the skill required to build the blocks.
DOWNWARD SLIDE
In last quarter of 2013, an audit was conducted on Mattel's India operations
Heads began rolling this year, with three people having to step down, including country manager Karun Gera (in March)
Two other senior executives quit for personal reasons. They resigned in January before the controversy broke out
Broegger will hold talks with suppliers, distributors and retailers about the goings-on at the Mumbai office