Godfrey Phillips, controlled by his father K K Modi, paid Rs 1.7 crore despite him not attending a single board meet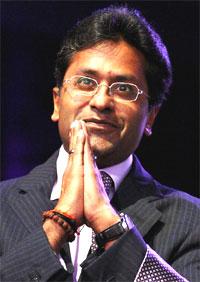 Lalit Modi might be famous for his penchant for cricket administration and his ongoing tussle with International Cricket Council chief N Srinivasan, but a significant portion of his earnings come from his father K K Modi's empire.

Unfortunately, he doesn't seem to be paying enough attention to the family business for a while. The man famous for having made Indian Premier League (IPL) a household name, is seeking reappointment as the director of Godrfey Phillips India (GPI), the flagship of the K K Modi group. But, corporate governance experts are against it pointing out that he has not attended even one board meeting of the company for the year 2013-14. Yet he got a remuneration of Rs 1.7 crore (Rs 17 million).

Explaining the rationale for Lalit Modi's remuneration, the company had said, "Lalit Kumar Modi has been a prominent member of the board serving the company over last two decades. Presently, he is a non-executive director in the company. In recognition of his strong entrepreneurial skills and valuable strategic advice and assistance provided by him in supporting various business initiatives of the company, the Board accorded its approval to remunerate him by way of commission under Section 309(4) (b) of the Companies Act, 1956."

Proxy advisory firm Stakeholders' Empowerment Services (SES) recommended that the company should disclose the why commission is being paid to only one non-executive director. "The remuneration of Mr. Modi is not aligned to the remuneration of other non-executive directors. The remuneration of Mr. Modi is higher than that paid to board chairman. He has not attended last three AGMs. He has attended only 7 per cent of board meetings in last three years."

While Modi receives a commission despite being non-executive director, Ramamurthy, a non-promoter executive director of the company, has a pay package, which does not comprise performance-based component. This is being seen as a remuneration policy skewed in favour of promoters. Experts believe that remuneration paid to executive directors should be aligned with the company's performance and thus should include a variable performance based component. "Mr. Lalit K Modi was paid Rs 170 lakh (Rs 17 million) as remuneration, which is 85 times the remuneration paid to next highest paid NED/ ID. This indicates that remuneration policy of the company is highly skewed in favour of promoters," the proxy firm said.

SES has asked shareholders to vote against the resolution seeking reappointment of Modi. "The remuneration paid to Mr. Lalit Modi is excessive compared to remuneration paid to other non-executive directors. Further, Mr. Modi has very poor attendance record at the Board meetings of the Company.

SES recommends that shareholders vote AGAINST the resolution," the proxy firm said.

An email seeking comments sent to Godfrey Phillips spokesperson on Saturday did not elicit any response. Lalit Modi also did not respond to a message left on his website www.lalitmodi.com.

In 2012-13 he attended only one board meeting that too through teleconferencing and was paid Rs 1.10 crore (Rs 110 million).

Modi is based in London over the past couple of years following legal proceedings initiated by Indian authorities over allegations of irregularities in the IPL. He is often seen on Indian televisions speaking from London primarily on cricket and IPL-related issues.