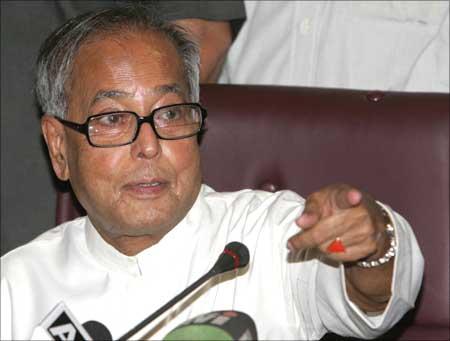 Close on the heels of steep increase in diesel price and cap on supply of subsidised LPG, President Pranab Mukherjee on Monday said greater alignment of domestic rates with global prices was in the interest of both consumers and investors.
A steep Rs 5.62 per litre hike notwithstanding, diesel continues to be sold at a discount of Rs 11.05 per litre to its actual cost as international rates continue to rule high.
"In the present international environment of rising petroleum prices, greater alignment of prices to global prices is in the interest of both consumers as well as investors," Mukherjee said inaugurating the 10th edition of Petrotech Oil & Gas Conference.
"Government of India is committed to adopt a time-bound programme to achieve this," he said. The government had in June 2010 freed petrol price from its control and agreed to free diesel rates in a calibrated manner.
"Just like financial markets, the world energy markets are inherently global and interdependent, and no single country can isolate itself from the market," the President said in an apparent reference to India's dependence on world markets to meet its energy needs. India's oil import bill, he said, has crossed $150 billion as it imports 75 per cent of its needs.
"For a GDP growth of over 8 per cent during India's 12th (Five Year) Plan, it would be imperative for us to ensure better demand management in our country," he said.

"There must be increased understanding of the fact that the path to a more sustainable future will require our society to make a better balance between its energy consumption vis a vis its cost and availability."