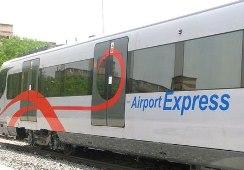 Reliance Infrastructure's Delhi Airport Express, the first public-private partnership in Metro rail services, is set to restart operation from 5 am on Tuesday, after remaining shut for six months.

The train will run at 50 kmph.

An expert panel of the Delhi Metro Rail Corporation will review the speed periodically.

The line was designed for 120 kmph, covering the 23 km in 18 minutes.

It was closed in July 2012 on safety grounds.

2008
JAN
DMRC awards the contract to Reliance Infrastructure-CAF consortium for the Airport Express Line

2010
31 JUL
Delhi
Airport Metro Express Private Limited misses deadline to start operations.
31 AUG

Extended deadline missed, too
30 SEP

DMRC slaps penalty of Rs 11.3 crore (Rs 113 million) on DAMEPL, DAMEPL objects
2011
JAN

Chief of Metro Rail Safety gives the go-ahead
FEB
Airport Express begins. Reduces travel time to airport to 20 minutes. Passenger count remains low
2012
28 JUL

Line shut down for repairs after cracks in civil structure. Passenger count at 17,000 a day
2013
JAN

After two days of inspection, on Jan 15 and 16, CMRS on Jan 18 gives clearance for restarting the line.