With crude oil price crossing $100 per barrel mark, the airlines have begun to pass some of the cost on to the consumer to meet the increased air turbine fuel expenses, and asked the government to take steps to reduce the cost of aviation fuel.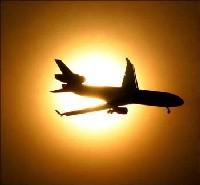 Low cost carrier, SpiceJet has raised the fares by a couple of hundred rupees and is reviewing it on a daily basis while Kingfisher has also sufficiently hiked the fuel surcharge.

Terming the present crude prices as "unsustainable" for airlines' survival, SpiceJet CEO Neil Raymond Mills said, "We have already started passing it (burden of high crude prices) on to the customer.

We have started with an increase of a couple of 100s of Rs per ticket but to be very honest this is only the beginning... It is getting really uncomfortable..."

Mills said some of the cost will have to be passed on to the consumer and some of it will have to be borne on our own, we'll have to manage it on a day-to-day basis.

"Pricing (of tickets) is dynamic. It's changing everyday, it is not absolute or same across the board. At current levels of crude, airfares must be hiked by Rs 600-700 to break even," he told reporters on sidelines of "India Aviation Meet " on 'Creating an Economically Viable, Sustainable and Inclusive Aviation Sector' by CII.

Kingfisher airlines has also sufficiently raised fuel surcharge to offset some of burden increased ATF prices.

"Kingfisher Airlines has sufficiently raised fuel surcharge to meet rising crude expenses," Chairman Vijay Mallya said. Full service carrier, Jet Airways has also "adjusted" fuel surcharge to absorb the impact of rising ATF prices.

"We have not raised the fares but we have adjusted the fuel surcharge. We are forced to pass it on to the passengers as increasing fuel prices have squeezed our margins," said Sudheer Raghavan, Chief Commercial Officer of Jet Airways.

All the airlines have asked the government to reduce the sales tax on ATF, which at times are as high as 30 per cent.

The government should include ATF into new Goods and Service Tax (GST) or should be make it a "declared good" under the present central sales tax regime, which will allow a uniform four per cent sales tax on ATF across the country, they demanded.