As a part of its promotion campaign, Malaysia-based budget airline, AirAsia, today said it plans to offer 1-million free seats across its global network.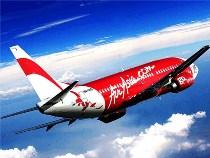 The promo offers seats starting from as low as Rs 89 and the passenger will have to pay only airport taxes from Kuala Lumpur to destinations such as Johor Bahru, Alor Setar, Kota Kinabalu, Kuching, Langkawi, Penang and others, a company press release said here on Monday.
AirAsia has a network of 130 routes spanning across 20 countries including India. Under the offer, a one-way Mumbai-Kuala Lumpur ticket would cost only Rs 3,990 (inclusive of taxes) while New Delhi-Kuala Lumpur would cost Rs 4,490 (inclusive of taxes), the release said.
"We have received many enquiries on AirAsia's social platforms on our Free Seats promo. We are delighted to announce that this promo is the best opportunity for guests to maximise on our extensive route network to travel to more places with our amazing low fares," AirAsia's Regional Head of Commercial, Kathleen Tan, said.
The seats under this offer are open for booking from May 18-23 for travel period from January 3-May 8 next year, the release said.
The booking is, however, available on the first-come-first-serve basis and can be made exclusively through the company's website, the release said.