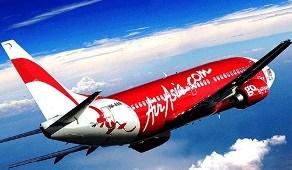 AirAsia said on Friday it has received formal approval from the Foreign Investment Promotion Board to launch an airline in the country in association with the Tatas, paving the way for the companies to move the sectoral regulator DGCA for an air operator licence.

"The application made by AirAsia through its investment arm, AirAsia Investment, to the Foreign Investment Promotion Board seeking approval for a 49 per cent investment into a joint venture company named AirAsia India, partnering Tata Sons and Arun Bathia of Telestra Tradeplace, has been granted a formal approval on April 4,"
the Malaysian carrier said in a statement.
AirAsia, the largest low-cost airline in Asia, announced the JV with Tatas late February. Last month FIPB had approved the proposal.
"This approval will enable AirAsia India to apply with the Directorate General of Civil Aviation for the aviation licence to operate as an airline," the statement added.
The proposed airline would operate from Chennai and would be focused on providing connectivity to small towns.
Currently, AirAsia operates in Thailand and Malaysia and already connects Chennai, Bangalore, Thiruchirapalli, Kochi and Kolkata to Asean and beyond.