The Air India strike issue was raised in the Lok Sabha on Wednesday with Gurudas Dasgupta (CPI) demanding that the government take concrete steps to revive the national carrier and stop patronising private players.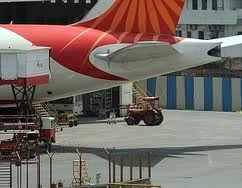 "Step by step, Air India is being destroyed. I urge the government to call the pilots and deal with their demands. Air India is sought to be destroyed. Salaries have not been paid for months," Dasgupta said in the House during Zero Hour.

He clarified that he did not want to go into the merits of the demands being made by the striking pilots but wanted the government to take effective steps to save Air India.

Dasgupta charged that the government first merged Air India and Indian Airlines and is now going to split the two.

"This is a wonderful change of policy by the government," Dasgupta said sarcastically. He alleged that private players are being given patronage instead of protecting Air India.

"There should be a concrete revival plan for Air India," he said.

CPI-M leader Basudeb Acharia asked Aviation Minister Ajit Singh, who was present in the House, to respond to these demands.

Deputy Leader of BJP in Lok Sabha Gopinath Munde demanded that the Centre take steps to deal with the drought in Maharashtra, alleging that it has forced more than 100 farmers to commit suicide in the last three months.

"The drought situation in Maharashtra today is worse than the drought of 1972. In the last three months, more than 100
farmers have committed suicide. There is no water for 100s of kilometres. The Centre should intervene and provide relief," he said.
Munde said the Maharashtra government is also not doing enough and has declared only 15 districts as drought affected when Vidarbha is also facing drought.
"The Centre should send a team to the state. Drinking water, fodder and food should be provided. The Centre should direct that there should be no politics on this issue," Munde said.
He complained that due to this situation, people from his district (Bheed) were migrating to neighbouring Karnataka in search of better prospects.
"This is a shameful situation. The Centre should intervene," Munde said.
Reoti Raman Singh (SP) demanded that the number of people having Below Poverty Line (BPL) cards should be increased as around 60 per cent of the population falls in this category.
"How many BPL card holders there should be in the country has not yet been finalised. Mulayam Singh Yadav had said there are more than 60 per cent BPL people while Arjun Sengupta Committee said 80 per cent and Saxena Committee said 50 per cent," Singh said.
He asked the government to look into the matter and increase the number from the present 6.25 crore (Rs 62.5 million) BPL to 11 crore (110 million).
"Grains are rotting and there is no place to store them. You want only 28 per cent to be given the BPL cards. MPs, MLAs and Block Pramukhs should prepare this list," he said.