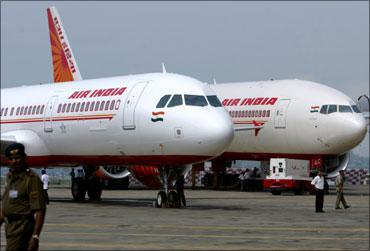 Air India is planning to set up a second ground handling subsidiary that will operate in all airports, except those in Hyderabad, Bengaluru and New Delhi.

The new subsidiary will be called Air India Air Transport Services Limited.

AI already has an equal ground handling joint venture with Singapore Airport Terminal Services.

Air India SATS Airport Services, that operates in the above three airports.

The state-owned airline selected SATS as its partner in September 2008.

AIATSL will take all its staff from AI on existing terms and conditions, and will hire cheap staff when the need arises.

"We have not decided on the number of staff to be shifted to the new subsidiary, as our airline does not have dedicated ground handling staff.

"Any call on the number of staff to be shifted will depend on the need of the subsidiary," said a senior AI official, who did not want to be identified.

AIATSL shall share 20 per cent of its revenue from third-party business with AI in lieu of transfer of assets of the state-owned carrier to it at Re 1.

The airline, in the report vetted by Deloitte, has assumed that AIATSL will share revenue only from the fourth year of commencement of operations to address potential concerns regarding the adverse impact of proposed revenue share on its stand alone financial sustainability.

The services to be offered by AIATSL to AI will be 50 per cent cheaper compared to what it will charge other airlines.

The government-owned carrier's earlier plan to shift its staff to AI SATS did not fructify because the subsidiary refused to take staff on existing terms and conditions.

AI SATS took only 50 of the 300 staff available at the Delhi airport and hired 500 people on contract, when it started operations at the Terminal 3.

It has 1,500 staff in Bangalore and Hyderabad. It handles flights of Air India, Singapore Airlines, Malaysia Airlines, Thai Airways, Emirates and Dragon Air, among others.

Meanwhile, AI approved a plan to shift 7,400 employees to a proposed engineering subsidiary on existing terms and conditions.

It is also scouting a global joint venture partner for the engineering subsidiary.

The subsidiary will look at getting business from the Rs 2,000-crore (Rs 20-billion) Indian maintenance, repair and overhaul industry, expected to grow fast in the coming years.

Earlier, AI had plans to set up a subsidiary for cargo operations, but it didn't fructify.

AI has accumulated losses of Rs 15,000 crore (Rs 150 billion).

It lost Rs 2,226 crore (Rs 22.26 billion) in 2007-08, Rs 7,189 crore (Rs 71.89 billion) in 2008-09, and Rs 5,551 crore (Rs 55.51 billion) in 2009-10.

It received Rs 800 crore (Rs 8 billion) 2009-10 and Rs 1,200 crore (Rs 12 billion) in 2010-11 from the government.

A proposed infusion of another Rs 1,200 crore (Rs 12 billion) this financial year will take its equity base to Rs 3,345 crore (Rs 33.45 billion).