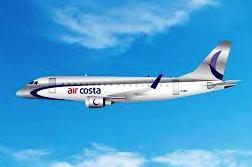 Air Costa, a first-ever regional domestic airline company based out of Andhra Pradesh, is all set to launch its services from next month.

The company will be focusing its operations on south India.

Air Costa is in the process of getting the final approvals from the Director General Civil Aviation and is planning to operate six flights in Phase-I, the company said on Monday.

The company is promoted by Vijayawada-based Lingamaneni Estates and Projects Limited (PEPL) group, which is into urban infrastructure, power, hospitality education and entertainment sectors.

"Air Costa has chosen the state-of-the-art fly-by-wire Embraer E-Jets for their efficiency and reliability.

"Our plan is to link the under-served markets in India with more direct flights," KN Babu, chief executive officer of Air Costa, said in a statement. The company proposes to launch the airline with a fleet of three E-Jets that are most suitable for the regional short-haul connectivity between Tier-II and Tier-III cities with major metros, the company said.

The company, however, did not disclose its pricing strategy and other financial details regarding its operations.

It has acquired two 70-seater E-170s
Jets leased from Brazilian aircraft maker Embraer, and they have already arrived at the Gannavaram airport in Vijayawada.
The third aircraft, E-190, has been bought by the company and it is yet to be delivered, according to people close the development.
The E-Jet family is a series of narrow-body, medium-range, twin-engine jet airlines produced by Embraer.
According to an aircraft price comparing portal, the E-190 Jet costs about Rs 185 crore ($32 million).
Besides this, the Air Costa promoters are in the process of negotiations for leasing two more aircraft from a different company, sources said.
"We are very pleased with the support that Embraer has provided to us for the launch of our airlines and we look forward to a long successful and mutually-rewarding relationship," Ramesh Lingamaneni, chairman and managing director of Air Costa, said in his statement.
"Regional air services have a lot of potential in India, especially as the economy of south Indian cities is booming.
"We are committed to further growth in the Indian market by undertaking additions to our fleet and launching new routes in the medium-term," he added. According to Babu, the E-170s and E-190s are ideal both in size and range so as to add frequencies and routes with out adding too much capacity.