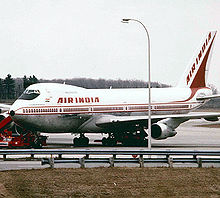 Air India has been ordered by a consumer forum to pay Rs 35,000 as compensation to a woman for demand of bribe from her son by its airport staffer to allow him carry extra luggage on his way to Singapore for studies.

The forum ordered compensation for complainant Beena Shah saying that the demand of the bribe amounted to causing harassment to her as her son was entitled to carry the extra baggage as per the information on the airline's website.

The forum asked Air India to compensate Shah noting that the Ministry of Civil Aviation had admitted the occurrence of 'unfortunate incident' after it was informed about it by Shah and had also tendered its apologies saying that there was some misunderstanding due to misinformation on the website.

"Keeping in view the clear apologies expressed by AI to the complainant (Shah) and mis-information on its website, deficiency on the part of opposite party (Air India) is clearly established on record.

"AI
was expected to be more courteous and sympathetic to a consumer who was a student and was returning for studies in Singapore," said the New Delhi District Consumer Disputes Redressal Forum.
"The fact of demanding extra money etc. have been accepted by the Air India as an unfortunate incident and, therefore, lack of sympathy and illegal practice is proved on record," the bench presided by C K Chaturvedi said.
The form's order came on a complaint by Saket resident Shah, who had said her son, being a student was allowed to carry extra 20 kgs of luggage, ie a total of 40 kgs, but on reaching the airport the staff had told him to pay extra for the excess luggage and also demanded bribe from him.
Her son as a result had to leave behind over 15 kgs of books and assignments, she had said in her complaint.
Admitting that extra baggage was allowed for students, Air India had taken the defence that the staff at the airport counter was unaware of the rules as the airline had outsourced that part of its operations to another agency.