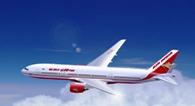 Prime Minister Manmohan Singh on Wednesday promised that wages and appropriate perks would be paid to Air India employees at the earliest after the financial problems of the ailing carrier found a resonance in Lok Sabha with members raising concern over non-payment of salaries.
It is an open secret that Air India is in "serious difficulty", Singh said, adding that the government has formed a Group of Ministers to look into the steps to be taken for financial restructuring of the airline and bring it back to normal.

"Air India doesn't have resources to pay salaries.... Whatever be the final outcome of the GoM, I can assure the House that the government will find ways and means and ensure that wages and salaries are paid," he said while intervening during Question Hour.

Members raised the matter vociferously with some saying that employees were finding it difficult to pay monthly installments for their car or home loans as they have not been paid salary for the last three months.

Singh said the salaries for June and July and productivity-linked incentive for employees would be paid at the earliest.

The minister of state V Narayanasamy, who replied to questions on behalf of ailing Civil Aviation Minister Vayalar Ravi, said the "turnaround plan and financial restructuring plan" of Air India are presently being looked into by a group of officers appointed by GoM.

As per provisional estimates, Air India's loss before tax during 2010-11 is expected to be Rs 6,994 crore, Narayanasamy said, adding the total accumulated losses of the state carrier would be Rs 13,326.86 crore as on March, 2010.

The
turnaround plan submitted by Air India envisages substantial equity support and the same is being examined by the government.
He said the main reasons for the huge losses were decline in passengers, increased financial cost, entry of low-cost carrier and interest outgo on loans taken for purchasing new aircraft among others.

The Minister denied allegations that the government is favouring private carriers as most of profitable routes have been given up by Air India and grabbed by private operators.

"A study is being done with regard to routes also and it is not true that the government is favouring private operators at the cost of Air India," the minister said.

He also informed the House that Air India's employee-aircraft ratio is 263 vis-a-vis around 180 of British Airways, 406 of Air Lanka, 285 of Air France-KLM, 521 of PIA and 318 of Thai Airways.

In a written reply to another question, the Civil Aviation Ministry said that the merger of Air India and Indian Airlines has been completed in many areas including single code, common procedures for procurement, accounting and delegation of financial and administrative powers and others.

A committee has been constituted to examine and suggest harmonised working conditions for various categories of employees among other issues.