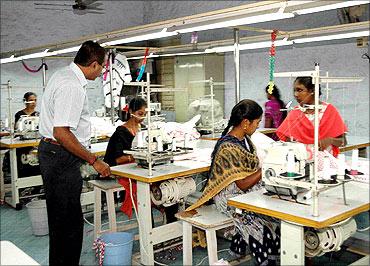 With China and Bangladesh losing their edge, textile exports from Tirupur are rising once again, turning the city into a job magnet.
Till a few years ago, Mahesh Kumar worked at a construction site in Andhra Pradesh. When the real estate sector slowed, he came to Tirupur, the city in Tamil Nadu that is called the knitwear capital of India, and found a job as a helper in a fabric unit.

He earns Rs 250 a day, more than what he took home every day in Hyderabad. His co-worker, Thangaraj, came to Tirupur from Sivakasi, home of the Indian fire cracker industry, after several units there were closed down due to stricter government regulations in the past couple of years.

He too is happy that he earns more in Tirupur than he did in his home town.
Many people like Kumar and Thangaraj find Tirupur ready to absorb them. After a muted existence with marginal growth for four years, the textile city is today poised for big growth. Industry representatives report export interest from the European markets.

Tirupur looks set to exploit overseas orders that are getting diverted from Bangladesh and China, where the industry is increasingly facing issues related to workshop safety, labour rights, higher wages and political uncertainty.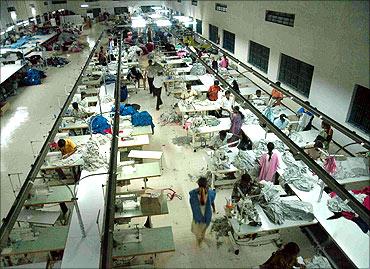 In 2013-14, knitwear exports from Tirupur logged growth of around 40 per cent with sales worth Rs 18,000 crore, according to A Sakthivel, president of Tirupur Exporters Association, a body of all major garment exporters in the city. Compare this to the flat graph in 2010-11 and marginal growth in 2012-13.
The performance in the current year too has been good, says Sakthivel - around 30 per cent growth in rupee terms and 15 per cent in dollar terms.

He, and indeed the whole of Tirupur, is optimistic of maintaining the growth tempo, in fact even doubling it if the government signs a Foreign Trade Agreement (FTA) with the European Union, which consumes about 45 per cent of the city's total production.
"If we sign the FTA with the European Union, we can take on Bangladesh," says R Raj Kumar, managing director of BEST Corporation, a Rs 700-crore company that supplies to major brands including Mother Care and Hanes, Europe's largest innerwear brand. He says customers recognise that Tirupur is a better place when it comes to quality, delivery and reliability. "It is our 10 per cent higher cost than that of Bangladesh that is keeping the customers away. That is why an FTA will help," says Kumar.
The competition from Bangladesh, arising from the low cost of production there, was one of the biggest threats for Tirupur. Costs in India are 8-10 per cent higher than in Bangladesh (China's products are 10-15 per cent more expensive than those of India). Indian firms have been selling at a margin of 5-10 per cent.

"In the past five years, we have not increased prices to counter the competition," says Sakthivel.
However, fortuitously for Tirupur, the past few years have eroded the edge that Bangladesh and China had on garment exports from India. Safety of workers and labour rights have become major concerns for buyers from the West, putting Bangladesh's industry in a crisis.

In 2012, hundreds of workers perished in a fire at a factory on the outskirts of Dhaka. Then last year, after the disaster at the Rana Plaza that killed around 1,100 workers, major Western brands stopped procuring products from Bangladesh or scaled down exports.

Reuters has reported that growth in garment exports from Bangaldesh has slowed to its lowest rate in 15 years, with buyers shifting to countries like India, Vietnam, Indonesia and Cambodia.

An industry official from Tirupur, who requested anonymity, says that big brands like Disney and GAP have already diverted their orders to India from Bangladesh and more brands are expected to migrate soon.
Also, the cost of labour, once Bangladesh's unique selling proposition, has doubled since last year. The minimum monthly wage was raised to $68 (around Rs 4,100) last December. It hit the bottom line of the companies, bringing down margins to 1-2 per cent, even nil for some, according to industry sources.
A look at the figures for two products - categorised as 338 (M/B knit shirts, cotton) and 339 (W/G knit shirts/blouses, cotton) by the US Textile and Apparel Category System, reveals where Tirupur's future lies.

The textile city's share in exports in category 338 has gone from 4.8 per cent in 2005 to 6.6 per cent in the first six months of 2014. In the same period, Vietnam's share rose from 2.3 to 6.8 per cent and that of Bangladesh from 2.3 to 5.7 per cent.

China had a market share of 4.6 per cent in 2005. This reached 11 per cent in 2012, but has declined to 9.2 per cent in the first six months of 2014.
In the case of category 339, Tirupur has grown from 2.6 per cent in 2005 to 4 per cent in the first six months of 2014. The figures for Vietnam and Bangladesh rose from 5.1 per cent to 18.2 per cent, and from 1.6 per cent to 3.4 per cent, respectively. Chinese exports grew from 6.4 per cent in 2005 to 24.3 per cent in 2013, but have declined to 20.1 per cent in the first six months period of 2014.
Free trade to boost exports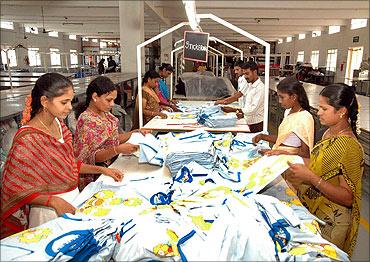 With a distinct price advantage over China, the Indian exporters believe that India should grab the opportunity with both hands, and the government should sign, if not a FTA, at least special agreements with exporting countries, like it did with Japan recently.

"Our order and enquiry flow, especially from the companies that are currently procuring from Bangladesh, are increasing and it is very important at this juncture for us to be seen as price competitive. This is the right time to sign special agreements," says T Thirukumaran, managing director, Estee Exports. The Rs 75-crore Estee Exports caters to brands like JBC, Guess, Jules, Wrangler, Gerry Weber, Lee and K&L.
The increase in demand and hopes that the government will sign more FTAs have motivated the industry to invest more in production capacities. After a gap of nearly three years, BEST Corporation has started installing new capacities.

It has set up manufacturing units at Karur and Avinashi and expanded its existing facilities. Sakthivel adds that in the last six months, the industry has recorded capacity addition of 15 per cent. Plus, 10-15 new factories are expected to go on stream soon.
With new units in place, the Tirupur industry, despite the growth prospects, is faced with the problem of manpower to meet the growing demand for its products.

The textile sector is now governed by flexible labour rules and wages are higher, yet loom workers are hard to find in the state, forcing the industry to scour for labour resources in other states, especially in the eastern parts of the country.
This has resulted in a major influx of migrant labour to the textile town. Twenty years ago, Tirupur had a population of 150,000. Today there are around 800,000 people in the city, of which around 600,000 are employed in the 4,000 or so factories located in the 14-km industrial hub.
Mahesh Kumar and Thangaraj have been joined in Tirupur by people not only from the neighbouring districts, but also from Bihar, Orissa, Assam and other states. This has put additional pressure on the factory owners who have to provide housing, water, and medical facilities to their recruits.

Raj Kumar's factories employ around 7,000 people, a third of them from the north. Two major challenges he faces are attrition and lack of adequate housing. The labour norms require a change, he says.

The textile industry, he points out, is seasonal and there are certain months when the workers need to work overtime to meet orders. At present, the law allows only 50 overtime hours in a quarter, which translates to an inadequate 30 minutes a day per worker.
Also, a senior industry representative notes that companies here are "deliberately" not growing, preferring to remain a small- or medium-sized enterprise in order to avoid "regulatory headaches and labour laws".
Tirupur has its own labour and compensation rules that are more favourable to workers compared to textile clusters in Surat, Ahmedabad and Mumbai. For instance, the industry has mandated a marriage fund that provides a woman worker Rs 7,000-10,000 for her wedding expenses.

Also, a worker is eligible to receive gratuity after six months of work, compared to five years in other industry.

There is no cap on bonus, and a worker can receive Rs 12,000-16,000 in a year as benefits, apart from salary, dearness allowance and variable dearness allowance linked to inflation.
In the past few years, more retail outlets and auto showrooms have cropped up in Tirupur. The traffic is more congested, and you can often spot luxury cars like Jaguars and BMWs on the city roads.

With business on an upward curve, the once dowdy town today wears the looks of a boom town.

Photographs: Sreeram Selvaraj