If India takes care of the economic investments, then it will open up the space to dampen or circumvent some of the political burdens.
C Raja Mohan, who heads the strategic studies programme at the Observer Research Foundation in New Delhi and has been a member of India's National Security Advisory Board, told the Carnegie Endowment for International Peace that if he were advising Narendra Modi, the Bharatiya Janata Party's prime ministerial candidate, once he assumes power, he would tell him to focus on trade relations with the United States instead of the US administration.
"If I were advising Modi, I would tell him to forget Washington for a minute and deal with New York, deal with Wall Street and the Main Street," he said. "And, if you get to those problems (with regard to trade and finance) and begin to sort them out, the Beltway can take care of itself. If you take care of Wall Street and the Main Street, if you take care of the economic investments, then it will open up the space to dampen or circumvent some of the political burdens."
Mohan currently serves as a visiting research professor at the Institute of South Asian Studies and as a non-resident senior associate at Carnegie. He is arguably the Indian policy wonk who's invited to Washington most regularly,
He explained, "Indian business has been so frustrated with this government for its domestic policies that in a more fundamental way, there are far more constituencies today who are interested in India's foreign policy. Indian business today has much greater stakes than it ever had before, because one, Indian capital has gone abroad. And, often they found that the government was not ready, or capable or not paying attention."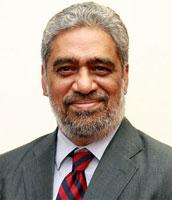 He said, "If the two businesses can work together, you can come together to more rational solutions and not the kind of unilateralism that has come with the Indian government that the US businesses have reacted to."
But, he added, "The US also has to deal with India differently. You can't use the standard template that you use with other countries; you have to have flexibility, and particularly because change is coming and this is the moment to sit back and say, 'What's the best way to advance that relationship'."
Mohan urged the audience to put the 'stagnation' in the past: "With the new government we got to take a fresh look at the overall relationship and whatever factors that have constrained or limited it. There are moments of opportunity and energy in the system and that's where we got to put things in place, and I would say that moment is coming and the next year is going to be crucial -- the next few months -- where we can bring fresh energy, new ideas and do a lot of unfinished business."
He said, "As India's capabilities come together and the power potential increases, it's a matter of time where India would see that it's got to contribute to the management of the international system -- not seeking to escape from the rigours it might impose, the burdens it might impose."
He added that India would have to be a party to "organise rules, not oppose and enforce."