Private equity company Actis is in talks with Isuzu Motors for exiting automobile company Swaraj Mazda. According to sources, though Actis has been looking to exit for quite sometime, the deal is stuck over difference in valuation.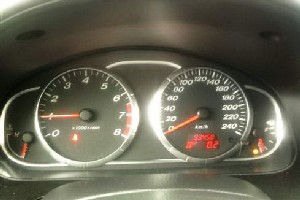 Actis holds 5.6 per cent in Swaraj Mazda, while Sumitomo Corporation of Japan and Isuzu own 54.9 per cent and four per cent, respectively.

Actis holds more than 0.8 million Swaraj Mazda shares worth around Rs 33 crore (Rs 3.3 billion) as per Wednesday's share price. It is yet to be ascertained what valuation Actis expects for its stake.

A spokesperson at Actis said, "As a matter of policy, we do not comment/react to market speculation." Mail sent to Gopal Bansal, executive director, Swaraj Mazda, did not elicit any response.

Swaraj Mazda shares on Wednesday closed at Rs 411.8 on the Bombay Stock Exchange (BSE).

According to BSE data, in September, other major shareholders in Swaraj Mazda include Reliance Capital Trustee (8.76 per cent) and CDC Financial Services Mauritius (6.72 per cent).

According to a source in the know, there is a strong possibility for Isuzu to increase its stake in Swaraj Mazda.

"Isuzu wants to strengthen its Indian presence through Swaraj Mazda with which it has a technical collaboration. There are two possibilities in front of Isuzu, either acquiring a controlling stake in Swaraj Mazda from Sumitomo or buying stake from other minority shareholders. They are ready to pay around Rs 600-620 per share," he said.

An analyst, who tracks Swaraj Mazda, said, "There is a minimal growth in Swaraj Mazda's performance in the past years. They are expecting to improve capacity utilisation in future on the backdrop of collaboration with Isuzu. Currently, they are using 50 per cent of the capacity. There is no scope for Actis to hold the stake in long term."

In 2009-10, Swaraj Mazda reported a turnover of Rs 716 crore and a profit after tax of Rs 22 crore.

In April 2010, Actis, which had 17 per cent stake in Swaraj Mazda, did not participate in the company's rights issue of Rs 80 crore, which lowered its stake to 12 per cent.

Swaraj Mazda, which manufactures vehicles for goods and passenger applications, was set up in 1984 as a three-way joint venture between Punjab Tractors, Mazda Motor Corporation, Japan, and Sumitomo Corporation. In 2005, both Punjab Tractors and Mazda Motor Corporation offloaded 15 per cent stake each in favour of Sumitomo.

Last year, Sumitomo raised its stake to 53.5 per cent by buying the entire equity holding of Punjab Tractors in the company.