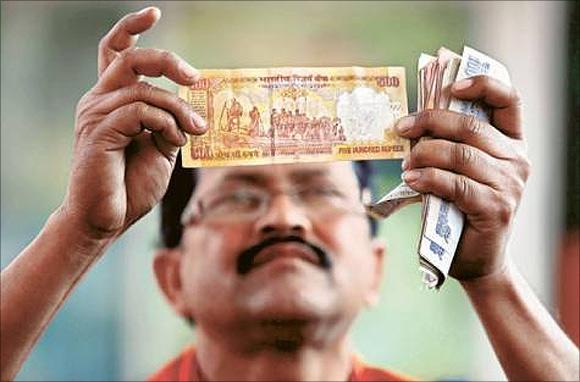 Achieving the budgetary target of Rs 6.24 lakh crore (Rs 6.24 trillion) in indirect tax collection during the current fiscal will be a challenge, a senior Finance Ministry official said on Thursday.
Please click here for the Complete Coverage of Budget 2014 -15
"It will be a challenge for the Central Board of Excise and Customs (CBEC) to achieve budgeted indirect tax target in the current fiscal year. Last fiscal, the revenue growth was just barely short of 5 per cent."
This year, we have to grow at the rate of 25 per cent plus, so you can imagine the kind of stress we in the department were under," CBEC Chairperson J M Shanti Sundaram said at an event.
The government has budgeted Rs 6,24,902 crore (Rs 6.24 trillion) from indirect tax collection in 2014-15, which is around 25 per cent higher than the indirect tax mop-up (revised estimates) last fiscal.
The CBEC Chairperson also expressed concern over decline in the manufacturing sector growth rate last year.
"The fact that the manufacturing sector is under stress is very well known. You all know in the last fiscal, the growth in the manufacturing sector hardly crossed into the plus," Sundaram said.
A recent data released by the Central Statistics Office (CSO) confirm that both the manufacturing and mining sectors shrunk in 2013-14 with fall in output.
The manufacturing sector contracted 0.7 per cent in 2013-14 against 1.1 per cent in 2012-13. Sundaram urged industry bodies to discuss issues with the ministries related to expansion of the manufacturing sector to boost exports and ensure sustainability.
"A number of actions that we have taken as results of policies led to the degrowth of the manufacturing sector. So it would be good if industry bodies - when they interact with ministries for forming policies for export, import and manufacturing - see this entire thing as not with short term vision but at least in the medium or long-term," she added.
The CBEC Chairperson also said that global slowdown was not the only reason for slump in India's manufacturing growth rate.
"It is not that manufacturing growth suddenly stopped, it occurred over a period of time. "
"So apart from the fact that there has been a global slowdown, our policies also need to be looked at, and industry bodies need to participate in the decision-making process to bring out the effect of policies both in medium and long-term on domestic manufacturing sector," Sundaram said.
Please click here for the Complete Coverage of Budget 2014 -15