Most firms anticipate high demand for ACs, refrigerators, coolers and fans, and are running at full production capacity to ensure they have enough inventory to meet demand.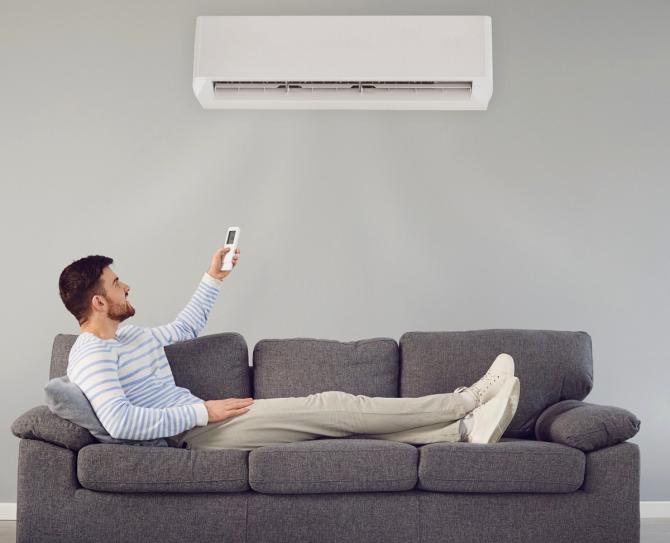 With the early arrival of summer, consumer durable companies expect double-digit growth in 2023 with most anticipating high demand for their summer products such as air conditioners, refrigerators, coolers and fans.
The consumer durables sector is expected to grow by 15-20 per cent in the next financial year due to a resurgence in demand and the government's efforts to boost consumers' discretionary spending, say industry experts.
Godrej Appliances anticipates over 2x growth in AC sales over last year and is targeting a growth of 40 per cent this summer season over last year from the entire set of cooling appliances like air conditioners, refrigerators, air coolers, and deep freezers.
"Our premium segment has grown over 50 per cent in comparison to the last financial year. This growth rate is on a par with the industry trend. We have been witnessing more traction for appliances delivering higher convenience, larger capacities, and health-first innovative features with the latest technologies," said Kamal Nandi, business head and executive vice president, Godrej appliances.
Panasonic India also expects robust growth in its AC category.
"We are expecting a robust first quarter in the AC category, which we anticipate will lead revenue growth," said Fumiyasu Fujimori, managing director, Panasonic Marketing India, Panasonic Life Solutions India told Business Standard in a written reply.
The company has also expanded its portfolio of refrigerators and introduced prime convertibles, a customised series designed specifically for the Indian market.
"We are confident that these products will contribute significantly to our overall growth in terms of volume and revenue in the coming quarters," Fujimori said.
Another home appliances major, Lloyd also expects healthy growth in ACs, especially the premium category this summer, owing to its enhanced robust product range.
In order to meet the pent-up demand, most companies are running their production at full capacity and are piling up inventory to avoid any supply chain disruptions, and loss of sales due to the unavailability of stocks.
"Most of our customers, including Voltas, Blue Star and Daikin, are very bullish and are running at full capacity. They are also scaling up their distribution and investment in their network and ISDs to maximise their reach as summers will be buoyant this year," said Vikas Gupta, managing director (operations), PG Electroplast, which provides manufacturing solutions to top consumer durable firms.
Recently, AC maker Blue Star told analysts the industry will hold 20-25 per cent more inventory than it did last year.
Companies are also re-thinking their strategies in order to revive rural demand which has been reeling under pressure for the past few quarters.
Godrej Appliances plans to expand its network of exclusive brand outlets in tier-3 markets to cater to upcountry consumers as demand picks up in these geographies.
"With consumer finance penetration increasing in tier-3 and 4 markets, the company plans to offer attractive finance schemes to drive consumption in these markets to stay largely stable," Nandi said.
"Lloyd has also planned a slew of new products to address consumer needs and is focussed on creating an extensive network in the rural market, by appointing new distributors and setting up its own branded shops," said Alok Tickoo, executive vice president, Lloyd.
Gupta feels air coolers, whose sales remained muted the past three summers are seeing their first big explosive season.
The fan market, Gupta added, seems to be mostly recession-proof, having grown 10 per cent year on year over the last decade.
The fan market, which underwent major changes in regulations with the rollout of the BEE Star Rating Table, is expected to shift to super-efficient fans with BLDC motors.
"Given the rising temperatures and increasing demand for cooling solutions, we are expecting a surge in demand for energy-efficient and technologically advanced fans this summer season," said Mahesh Gupta, CMD, Kent RO Systems, which recently entered the BLDC ceiling Fans segment with Kuhl brand.
Firms such as Godrej Appliances expect the prices for their summer products to remain stable.
Some feel that prices for specific products like fixed-speed AC models will rise due to the BEE Star Ratings Table change.
Sunny Side Up
White goods sector likely to grow at 15-20% in FY24.
Premium products to drive double-digit growth.
Inventories up 25% as compared to last year.
Fans market to remain recession-proof.
ACs, refrigerators, fans, & air coolers to see high demand.
Early summer & pent-up demand to push growth.
Feature Presentation: Rajesh Alva/Rediff.com