A year after getting a fresh five-year extension of term, Indian Hotels Managing Director and Chief Executive Raymond Bickson has stepped down.

The board, which met on Thursday, accepted his resignation effective this month-end.

The sudden resignation and almost-immediate announcement of a successor came as a surprise to many.

The resignation comes barely three weeks before the company's annual general meeting, scheduled for August 27.

Bickson, 59, who has been at the helm of affairs at Indian Hotels, which operates the Taj group of hotels, for more than a decade, will return to the US to 'pursue professional interests elsewhere', a release issued by the company said.

Bickson will be replaced by Rakesh K Sarna, 57, a hospitality industry veteran who has in the past spent more than three decades with Hyatt Hotels.

Born in Hawaii, Bickson was handpicked in January 2003 by the Tata group's then chairman Ratan Tata and given the mandate to take the Taj brand abroad.

He is also known to be a close protégé of the company's former vice-chairman R K Krishna Kumar.

But the company's three US hotels, including New York's luxurious 189-room The Pierre, which the company bought in 2005, failed to make money, thanks to the global economic meltdown after the Lehman crisis.

The three hotels in the US alone posted a combined loss of nearly Rs 155 crore (Rs 1.55 billion) during the previous financial year, according to the latest annual report of Indian Hotels Company Ltd.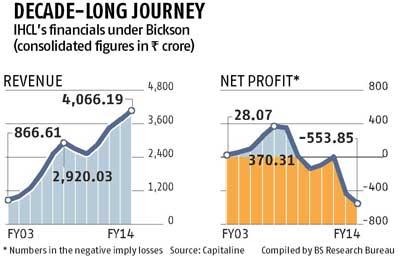 Last month, the company took steps to cut its losses abroad and sold off its 100-room property in Sydney, Australia, for Rs 180 crore (Rs 1.8 billion).

IHCL said that it intended to focus on the Asia-Pacific region, particularly China, where it will manage two luxury properties under the Taj brand.

In 2013, Bickson's contract was extended by the company, despite a section of shareholders voicing their displeasure over IHCL's poor financial performance at last year's annual general meeting.

According to the annual report, Bickson's annual commission was increased 75 per cent to Rs 2.01 crore (Rs 20.1 million) last financial year, even as the company incurred a loss of Rs 590.50 crore (Rs 5.9 billion) on a standalone basis.

Under the new contract, Bickson's salary and perks were lowered 8.5 per cent to Rs 8.38 crore (Rs 83.8 million), but this got more than compensated by a steep rise in commission; the company's total payout to him increased to Rs 10.4 crore (Rs 104 million).

In 2013-14, IHCL's losses increased 113 per cent to Rs 590 crore (Rs 5.9 billion) from Rs 277 crore (Rs 2.77 billion) the previous year. Income during this period remained nearly flat, at Rs 1,977 crore (Rs 19.77 billion).
By comparison, in the same financial year, rival Oberoi Hotels made a profit of Rs 50 crore (Rs 500 million) on a revenue of Rs 1,157 crore (Rs 11.57 billion).

The losses prompted IHCL to set aside Rs 687 crore (Rs 6.87 billion) as diminution in value of foreign investments, especially the US.

This included its investment in super luxury hotel chain Orient-Express Hotels, where it was snubbed by the Bermuda-based company.

In 2012, the company made a second offer to the company, along with an Italian fund managed by Montezemolo and Partners SpA, but the offer was again rejected by the Orient Express board.

IHCL runs 127 properties across five continents in the mid-market and luxury properties under the Taj, Vivanta by Taj, Gateway and Ginger brands.

In his statement, Indian Hotels Chairman Cyrus Mistry said Bickson's three decades of hospitality expertise helped make the Taj group and its brands some of the most respected names in the international hotel and resort industry.

Sarna, who was the executive officer at Hyatt, in his last held position that extended for nearly two years, served as the group president of Americas and executive vice-president.

He was responsible for development and management of owned, managed and franchised hotels across all Hyatt brands.

IHCL will bank on Sarna's international expertise for global expansion as the group has been trying to get a foothold in areas beyond Indian boundaries for several years.

Sarna joins IHCL at a time when the company is struggling to fend off competition at home, where almost all major global hotel companies have made a foray. Companies like Marriott, Hyatt, Starwoods and Intercontinental, to name a few, are aggressively expanding in India.

"Sarna has had an international upbringing. He moved to Canada as a young adult and completed his diploma in hospitality administration from Ottawa," said the IHCL release.

IHCL UNDER BICKSON

2004: The first Ginger hotel opened

2005: IHCL bags management contract of New York's The Pierre, enters into management contract to operate the Taj Exotica in Palm Island, Jumeirah, Dubai

2006: Acquires Sydney's W hotel, which is later renamed the Blue Sydney

2007: Acquires the Ritz-Carlton in Boston, US, renames it the Taj Boston
Buys 10% in Bermuda-based Orient Express Hotels, asks for partnership; the proposal is rejected
2008: Launches the Gateway brand
The Taj Mahal Colaba reopens after being shut for three weeks following the 26/11 terrorist strike
Launches Vivanta by Taj, a new brand
2009: The Pierre reopens after a $100-million renovation
Acquires a controlling stake in ELEL, which holds a long-term sub-lease for the land on which Mumbai's Sea Rock Hotel is located, for Rs 680 crore (Rs 6.8 billion)
2010: Opens Taj Capetown
2012: Offers $1.86 billion to acquire a controlling stake in Orient Express; proposal is rejected again
2013: Withdraws the Orient Express buyout offer
Opens 100th hotel, Vivanta by Taj, Gurgaon
Image: Raymond Bickson; Photograph, courtesy: Business Standard